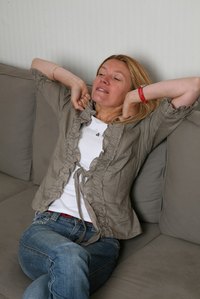 The thyroid is a gland located in the front of the neck. The hormones produced by the gland regulate the metabolism of the body. A bad thyroid can occur through a number of conditions. The four most common are hypothyroidism, an underactive thyroid; hyperthyroidism, an overactive thyroid; and Hashimoto's thyroiditis or Grave's disease, two autoimmune conditions of the thyroid. If the thyroid is not functioning correctly, it can present with symptoms throughout the body.
Weight Changes
Changes in your weight may be a symptom of a thyroid disorder. Weight gain is a symptom of hypothyroidism while weight loss (while maintaining or increasing food intake) can indicate hypothyroidism. Hashimoto's thyroiditis can present with weight gain or loss.
Gastrointestinal Problems
Gastrointestinal complaints are frequently heard by those with a bad thyroid. Constipation can occur with a hypothyroid and Hashimoto's, while diarrhea is more common with hyperthyroidism. Nausea often accompanies hypothyroidism and Hashimoto's thyroiditis.
Energy Level
Fatigue is one of the most recognized symptoms felt by someone with any type of bad thyroid. It is especially bad for those with hyperthyroid. If you have an overactive thyroid, your energy level may drop so low it may be more debilitating than a feeling of weakness.
Hair and Nail Effects
Problems with the thyroid gland can be obvious when you look at your hair and nails. Hypothyroid patients complain that their hair and nails feel thin and become brittle. Those with hyperthyroid and Hashimoto's may experience some hair loss.
Heart Problems
A low resting heart rate (bradycardia) can occur with hypothyroidism. Hyperthyroidism can cause heart palpitations and cardiac arrhythmias. Grave's Disease can give you a rapid heartbeat (tachycardia), as can Hashimoto's; however, the latter has also been known to cause bradycardia.
Face & Skin Changes
A bad thyroid may change your appearance. Hypothyroidism can make skin itchy and dry. In advanced stages, it may also make the face appear puffy-looking. One of the first symptoms of Grave's disease is bulging of the eye. It can also cause skin thickening.
Muscular & Joint Pain
Arthritis, joint pain, muscle cramps and even poor muscle tone are all symptoms of an underactive thyroid. An overactive thyroid may give you involuntary muscle movements, myopathy and osteoporosis. Grave's disease causes muscle weakness.
Mood Effects
A change in your overall mood may be a symptom of a thyroid problem. Depression is not uncommon if your thyroid levels are off. Those with hyperthyroid may also feel anxiety, apathy and irritability. Hashimoto's can produce panic attacks and mania in some patients.