Navigating the grocery store can be a real chore, and if you have to eliminate gluten from your diet, it can be downright distressing. But if you have a guide to help you, you may feel more prepared and less distressed. You can find a variety of gluten-free foods at the grocery store that not only provide good nutrition, but also satisfy your taste.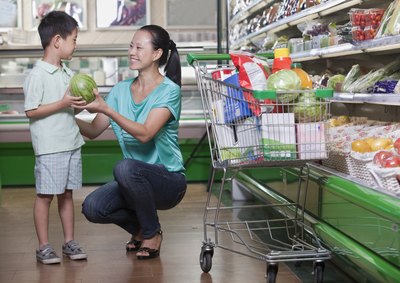 Who Needs Gluten-Free
Gluten-free has become a popular diet in recent years, but certain groups of people need to avoid gluten for medical reasons. When people with celiac disease, an inherited autoimmune disorder, eat foods with gluten, their immune system attacks and damages their digestive tract, leading to malabsorption and malnutrition.
Nonceliac gluten sensitivity is a condition in which people have an adverse reaction when they consume foods with gluten, experiencing symptoms similar to those with irritable bowel syndrome, such as abdominal pain, distention, diarrhea and constipation.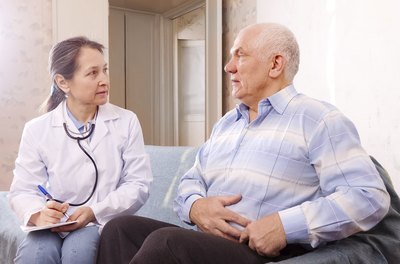 New Food Label
When looking for gluten-free foods, the food label is a good place to start. In 2014, the U.S. Food and Drug Administration issued guidelines stating that in order for a food to be labeled "gluten-free," it must be either naturally free of gluten or be free of ingredients that contain gluten.
Food manufacturers are not required to identify the gluten content of their products, so you still need to be careful when making food selections. But the new label guidelines may help you feel secure when purchasing foods labeled "gluten-free."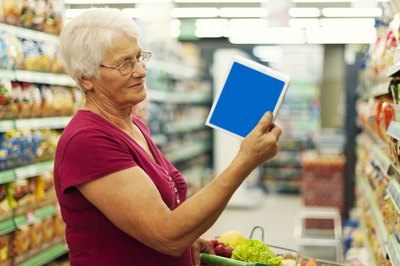 Naturally Gluten Free
Perusing the perimeter of the grocery store, you can find a variety of naturally gluten-free foods. In the produce section, fresh fruits and vegetables are naturally free of gluten and make a healthy addition to your diet. Fresh meat, poultry and seafood without any added ingredients are also naturally without gluten.
In the aisles, you can find gluten-free whole grains, such as rice, amaranth, quinoa and millet, as well as legumes, seeds and nuts if they don't contain any gluten-derived additives. In the freezer section, look for plain frozen fruits and vegetables.
Beware Processed Foods
When eliminating gluten from your diet, be careful about processed foods that may be a source of gluten. These include frozen meals, french fries, soups, snack chips, candy, deli meats, sausages, frozen vegetables with sauces and soups.
You also want to be careful even with foods you may not suspect contain gluten, such as soy sauce, imitation fish and bouillon cubes, by inspecting the ingredients list. To be gluten-free, the food should not contain wheat, barley, rye, durum, semolina, malt, graham, wheat starch or brewer's yeast.
That said, many gluten-free processed foods are available at the grocery store, including breads, waffles, ready-to-eat cereals, frozen meals and baked goods. Careful label reading can help you find these foods.