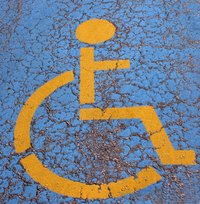 Businesses operating in Illinois must follow certain state laws regulating the number and type of parking spaces they are required to set aside for disabled drivers. These laws are designed to give disabled consumers the same access to businesses as any other customer. Businesses that ignore these parking requirements can suffer heavy financial penalties.
Accessible Parking Spots
Businesses in Illinois must set aside a specific number of accessible parking spots according to the overall size of their parking lots. According to the Illinois Attorney General's office, businesses with one to 25 parking spaces must set aside at least one parking spot that is accessible to consumers with disabilities. Businesses with 26 to 50 parking spots must set aside two accessible spots, those with 51 to 75 must provide three and those with 76 to 100 four. The number rises to nine for businesses with 401 to 500 parking spots. Businesses with 501 to 1,000 parking spots must set aside two percent of the total as accessible parking. Those with more than 1,000 spots are required to set aside 20 spots plus one for every 100 parking spots over 1,000.
Location
Businesses in Illinois must also make sure that the accessible parking spaces are in the proper location. Illinois law requires that these spaces be located on flat pavement. They must also be located along the shortest accessible pathway to a handicapped-accessible entrance to the building. However, if the business already has a curb ramp, it may locate its accessible spaces close to the ramp even if this location stands further away from the building's accessible entrance. Businesses adding a curb ramp are required to place it, and the accessible parking spots, as close as possible to the building's accessible entrance.
Size
Illinois law also governs the size of accessible spots. They must be at least 16 feet in width and include a diagonally striped access aisle that is either eight- or five-feet wide. Illinois law even specifies that businesses are to use a high-quality yellow paint manufactured solely for pavement striping.
Signs
Businesses must identify the accessible spaces with proper signs. Illinois law requires both a sign identifying a spot as being reserved parking and a second stating that drivers who park in the space illegally are subject to a $250 fine. Municipalities in the state can charge a higher fee, up to $350, after passing an ordinance stating the new penalty.