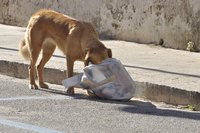 Diarrhea commonly self-resolves, but in some instances unchecked diarrhea can result in life-threatening complications such as dehydration and shock. In these cases, immediate veterinary intervention is essential. Your vet may need to treat the underlying cause for the diarrhea -- which could be infection; illnesses such as parvo, coronavirus and cancer; parasites; and various other medical causes. If your dog's diarrhea is accompanied by other symptoms or does not resolve quickly, seek medical treatment.
When Diarrhea Gets Dangerous
Ongoing diarrhea can lead to weight loss as the body becomes unable to absorb nutrients from the digestive tract. Your dog's fur may become dry and brittle from lack of nutrients. A protein called albumin, which maintains water within the blood vessels, becomes stripped out of the body. When this happens, water seeps out of the blood vessels and accumulates in other areas of the body including the abdomen and legs. As a result, visible edema occurs in these areas.
Death From Dehydration
While diarrhea does not directly cause death in dogs, diarrhea can cause dehydration. In serious cases, dogs can lose body fluids rapidly. Not only does the dog lose water, but dehydration also leeches electrolytes from his body, which are important for regulating organ functions. Initial signs of dehydration include dry, sunken eyes, a dry mouth and nose, excessive panting and diminished activity level. As dehydration progresses, a dog's skin will lose elasticity and his capillary refill time will slow. Critical signs of dehydration include hind end weakness and an unsteady gait.
Checking His Fluid Levels
Check your dog's skin elasticity by pinching a fold of skin behind his neck. If your dog is sufficiently hydrated, the skin will immediately pop back into place. The more dehydrated your dog becomes the longer it will take for the skin to return to its normal position. In cases of severe dehydration, the skin will continue to stand in a tentlike position on its own once you have released it. To check your dog's capillary refill function, press your finger against your dog's gums. The area beneath your finger will become pale as the pressure from it restricts blood flow. In a well-hydrated dog, the area will quickly return to its normal pink coloration when you remove your finger. If your dog has become dehydrated, the color will return more slowly.
Sending Him Into Shock
If diarrhea and dehydration remain unchecked, the loss of fluid and electrolytes can send your dog into shock. A serious medical emergency, shock has signs that include severe weakness, a weak pulse that is difficult to locate or feel consistently, cold feet, extreme lethargy, rapid respiration, hemorrhage and respiratory failure. Complications from shock include anemia, low protein levels, cardiac arrhythmia and cardiac arrest.
Taming His Tummy
If your dog's diarrhea persists for more than a day, if it's tinged with blood or mucus, or if it's accompanied by depression or other symptoms, contact your veterinarian immediately. Small dogs have fewer bodily reserves and are at risk of complications much earlier than large dogs, making timely treatment particularly important. Standard treatments to combat dehydration and shock from severe diarrhea include inpatient administration of intravenous fluids, continuous monitoring of vital signs and, if necessary, warming techniques for dogs whose body temperatures have fallen.