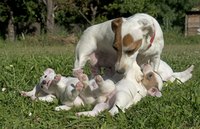 Time flies when you're raising puppies. In two months -- just eight short weeks -- they grow from newborns to ready for a new home. The stages of a puppy's development during that period change weekly. Newborn puppies might triple their birth weights in just three weeks' time.
The First Week
Newborn puppies are blind, deaf and toothless. They aren't capable of regulating their own temperatures, but they can crawl -- so they instinctively head toward the warmth provided by their mom's body. Newborn puppies can also suckle. They require colostrum, that rich "first milk" full of protective antibodies, with the first 48 hours after birth. After that, the mother's body starts releasing standard milk. Expect puppies to nurse every two hours in that first week. Newborns require maternal licking of their anal area to stimulate defecation and the lower abdomen to stimulate urination. A few weeks later, they're good to "go" on their own.
The Second Week
By the puppy's second week of life, he has experienced notable changes. His eyes are open, although he can't see well at the beginning, and he can hear. He can sit up on his own, and his baby teeth start coming in.
The Third Week
About the age of 3 weeks, puppies no longer require stimulation from their mother to urinate and defecate. A puppy will start eliminating outside of the whelping box, if possible, because dogs naturally don't want to defecate in their "den." At this age, the incisors erupt. You might hear your little buddies emit tiny puppy barks.
The Fourth Week
About the age of 4 weeks, puppies start playing with each other, rather than just crawling over their littermates. This is prime time for them to start socializing with people, as well, although this process takes weeks. Don't expect puppies to stay happily in the whelping box -- there's a world out there to explore. Puppies can start eating some solid food, and mom will start weaning them.
The Fifth Week
From their mom, puppies learn typical canine behavior. These include chasing, play invitations and body posturing. They'll also learn the canine hierarchical structure from mom and siblings.
The Sixth Week
At the age of 6 weeks, puppies enters a phase where they become more fearful and withdrawn. He's less accepting of new things. This phase lasts for several weeks.
The Seventh Week
By 7 weeks, the puppies are barely nursing and mom leaves them alone for long periods. This is the point where a puppy can begin forming true bonds with people.
The Eighth Week
By 8 weeks, puppies should be fully weaned, consuming several small meals daily. While the testes of male puppies have probably already have dropped, if they haven't dropped by the age of 8 weeks you should consult your vet. At this age, puppies can go on to their new homes, although some breeders and vets prefer to wait until puppies are 10 to 12 weeks old before allowing them to leave.