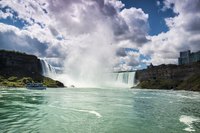 Each minute, enough water to fill about a million bathtubs gushes over the crest line of Horseshoe Falls. The 180-foot high waterfall in the Niagara River -- which sees nine times the amount of water as its U.S. counterpart, the American Falls -- forms the eastern boundary of Niagara Falls, Ontario. The small bustling city that overlooks the popular tourist destination is as easy to visit as it is beautiful.
For Private Pilots
The closest airport to Niagara Falls is the Niagara District Airport, which lies less than 10 miles north of downtown. No commercial airlines land at the small airport. With three runways -- the largest 5,000 feet -- Niagara District Airport serves mostly corporate airplanes and pilots with smaller aircraft. The year-round airport has 24-hour customs service, with two-hour advance notice, available to tourists. The small terminal has restrooms, beverages and a payphone. Transportation options from the airport include car rental, taxi and limousine.
Take to the Sky
Across the Canada-United States border, Niagara Falls International Airport hosts two commercial airlines. Both Allegiant Air and Spirit Airlines land at the airport, just over 10 miles east of downtown Niagara Falls, Ontario. The two airlines fly to and from South Carolina and Florida. Inside the terminal, grab a quick sandwich or beverage from a concession stand that opens two hours before departures, or use the airport's free wireless Internet to check your email. If traveling with pets, take advantage of the airport's outside animal relief area before flying.
Close and Commercial
The largest States-side commercial airport is Buffalo-Niagara International Airport, less than 30 miles southeast of downtown Niagara Falls. American Airlines, Delta Air Lines, Jet Blue Airways, Southwest Airlines, United Airlines and US Airways all serve the airport, flying to 23 airports around the U.S. The terminal hosts a number of restaurants, cafes and smalls shops, and provides free wireless Internet. A number of taxis, shuttles, buses, coaches and limousine services help visitors and tourists get to where they're going from the airport.
Island in the Sun
On Toronto Island, Billy Bishop Toronto City Airport flies to 18 U.S. and Canadian cities, and connects to more than 80 destinations worldwide. The commercial airport, 78 miles north of Niagara Falls, is accessible from downtown Toronto by ferry, complimentary shuttle and public transit. Two million travelers pass through the airport each year, and a cafe and a duty-free shop are on site to accommodate them. GO Transit, a regional public transit system for the Greater Toronto Area, operates buses and trains between Niagara Falls and Toronto.