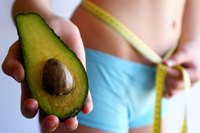 If you find it difficult to gain weight, it may be due to you having a high metabolism, a high level of physical activity compared to the amount of calories you consume, illness or possibly a combination of these factors. Weight gain occurs when the amount of calories you take in is higher than the amount of calories you burn. Putting on weight should be done by eating nutritious foods with lots of proteins, carbohydrates and healthy fats and exercising, not by loading up on sugary or processed "junk foods".
Proteins
Protein helps the body to gain muscle, which gives the body extra weight. Proteins derived from animal sources are best, because they also contain some fat, which is beneficial to gaining weight because proteins that contain some fat are higher in calories than those that don't have fat. Whey protein, eggs, chicken breast, turkey breast, salmon, tuna, salmon, lean beef and lamb are all great choices for high-quality protein. Dairy products like cottage cheese, low-fat milk and low-fat yogurt are also good sources of protein. Avoid fatty cuts of beef, pork, sausage, bacon and whole milk products because they contain large amounts of unhealthy saturated fat.
Carbohydrates
Complex carbohydrates, called starches, are another source of calorie-dense foods with high nutritional value. Potatoes, yams, rice, cereals, legumes and pasta are good sources of the carbohydrates necessary to put on weight. Whole grains such as oatmeal, cream of wheat and wheat bread are also great starches that will aid you in weight gain.
Healthy Fats
Healthy, unsaturated fats are another important factor in a weight gain diet. Fats have more than twice as many calories per gram than carbohydrates or proteins. However, less than 15 percent of the calories you consume should be from fats. Sources of the nutritional fats that you need include olive oil, sunflower oil, flaxseed oil, walnuts, avocados, peanuts, peanut butter, almonds, borage oil and safflower oil.