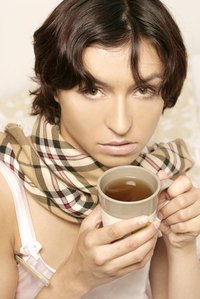 Congestion is as inevitable during cold weather as rain and snow. Cold air can cause chest and nasal congestion by increasing and thickening mucus, irritating nasal tissue and even triggering allergic reactions. But while you may not be able to avoid the cold weather, you can often treat the symptoms of congestion.
Prevention
Colds and the flu are not caused by cold weather, but temperature can aggravate cold symptoms such as congestion. Reduce your risk of falling ill during cold and flu season by frequently washing your hands and using an antibacterial hand sanitizer. If you suspect that your congestion is caused not by illness but by an allergic reaction to cold air, you may be able to prevent symptoms by taking antihistamines or other allergy medications during the winter months. Some antihistamines are available over the counter, but it's best to discuss your particular symptoms with a doctor to determine the most effective treatment. Also, some people have reported success with natural remedies such as saline nose drops and Vitamin C.
Hydration
Excessive mucus is one of the most recognizable signs of congestion. Our bodies are always producing mucus, but cold weather can make that mucus thicker and more noticeable. Drinking lots of fluids such water, tea and juice can thin and loosen mucus, making it easier to swallow or expel. Avoid alcohol or caffeinated drinks, which can dry out congested nasal passages.
Environment
You can't control the weather outside, but you can control the environment inside. Combat cold, dry air by setting up a humidifier or vaporizer at home, particularly in your bedroom at night. Breathing in steam during a warm shower, steaming your face over a sink of warm water or even inhaling the steam that rises from a warm cup of tea can also ease congestion.
Medication
If your congestion is caused by exposure to cold weather or an infectious illness rather than by allergies, there is no sure-fire prevention or cure. But you can make congestion more manageable by treating your symptoms. Over-the-counter decongestants can reduce swelling in irritated nasal passages, and expectorants thin out mucus in the lungs, making it easier to cough up. Meanwhile, ibuprofen and acetaminophen can treat the pain caused by the sinus pressure that often accompanies congestion.