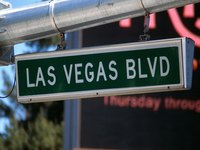 Las Vegas is an ideal destination for celebrating a 40th birthday. The city has changed a lot since its inception in the 1940s with mob run hotels and casinos. Now, you can enjoy spectacular accommodations, exciting entertainment and excellent meals all around town for a memorable birthday .
Touring Las Vegas
Begin your birthday celebration by finding out more about Las Vegas' storied past. Start by visiting the Museum of Law Enforcement and Organized Crime in the former courthouse and post office. Discover the real story behind mobsters like Bugsy Siegel and their ties to Las Vegas history. For a bird's eye view of the strip, try the Eiffel Tower Experience at the Paris Hotel, or take a helicopter tour of the city.
Where to Stay
For an occasion like a 40th birthday, you may want to splurge on elaborate hotel accommodations. For example, at the Venetian, guests enjoy luxurious oversized accommodations and amenities including a rooftop deck with swimming pools, pavilion beds, cabanas, a hot tub and top restaurants. Spa lovers will find Canyon Ranch onsite. Other popular hotel choices are Bally's, Bellagio and the Luxor.
Las Vegas Fun
You might want to try your luck at one of the famous casinos along the strip, or at least peek in to see what all the excitement is about. If you are new to the gambling scene, brush up on game rules before you go, and check for promotions. If you choose to visit the casino at the Bellagio, stop by to see the free fountain shows scheduled throughout the day as water dances to the music. The Fremont Street Experience downtown presents nightly shows and special events and concerts all year long. Chocoholics will enjoy Ethel's Chocolate Lounge and Cactus Garden, offering free self-guided tours of a chocolate factory.
Top Restaurants
To celebrate your special birthday, you can dine at some of the hot spots around town known for their cuisine and ambiance. Try the Wolfgang Puck Bar & Grill at the MGM Grand, or Bobby Flay's Mesa Grill at Caesar's Palace. If you love seafood prepared with a Cajun flair, Emeril's New Orleans Fish House is also located at the MGM Grand. For steak lovers, celebrity chef Jean-George Vongerichten provides a lakeside venue with extravagant furnishings, including Baccarat chandeliers.
Night Life
Las Vegas is known for its top entertainment. Broadway-style shows like Phantom of the Opera, Blue Man Group and Jersey Boys are popular favorites. Cirque du Soleil shows like O, Mystere and Zumanity provide imaginative spectacles featuring dancers, singers, musicians and acrobats. Illusionist Criss Angel presents the Believe show as a tribute to Harry Houdini. Performances by celebrity comedians and entertainers like Carrot Top are scheduled throughout the year. To round out the night, stop by at Studio 54 at the MGM Grand, where you will find three stories with four dance floors and an eclectic musical mix.