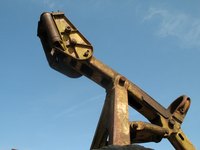 The U.S. government has recognized lead as a toxic material that could cause harm to humans and regulates the use of the metal. In 1978, the government banned the use of lead from paint. Government regulations also have a limit on the amount of lead allowed in public drinking water supply. This has led to a need for the development of alloys that don't use lead.
Alloy of Tin, Silver and Copper
Lead is commonly used for soldering applications to join metals. The Ames Laboratory patented an alloy made of tin, silver and copper in 1996 that manufacturing companies can use as a substitute for lead alloy in soldering applications. According to Ames Laboratory's senior metallurgist Iver Anderson, the tin, silver and copper alloy offers a lower melting temperature and greater strength than other substitutes for lead as a soldering application.
Bismuth and Selenium Alloy
The ASARCO Technical Center in Salt Lake City came up with the idea of using a combination of selenium and bismuth as a substitute for lead. According to the Copper Development Association, the research shows that a combination of bismuth and selenium, which it calls SeBiLOY or EnviroBrass, "provides the same beneficial effect on machinability as does lead." As well, the CDA finds that bismuth selenium alloy properties relating to pressure tightness and other casting characteristics is almost identical to those of conventional lead alloys.
Other Alloys
By altering the composition of bismuth and selenium and other metals that go into the bismuth and selenium alloy, it is possible to derive other alloys to substitute for lead alloy. The Copper Development Association and other industry associations have also come up with EnviroBrass II and EnviroBrass III. While the producers of these alloys do not intentionally add lead, a trace amount of lead (less than 0.25 percent) could be introduced into the process due to the lead that is found in the recycled materials from which the alloys are commonly made.