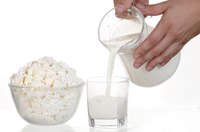 One of the most common and uncomfortable conditions that can plague the human body from time to time is abdominal gas, or gas bubbles. Gas can occur because of improper or insufficient digestion, or simply because the food eaten produces large amounts of gas when it interacts with digestive enzymes and naturally occurring stomach and intestinal bacteria. However, a number of home remedies exist to help prevent gas bubbles from forming in the first place, and to relieve the pain and pressure when abdominal gas pains do occur.
An Ounce of Prevention
Small, frequent meals may be the key to preventing the accumulation of abdominal gas, according to Mother Nature.com. For those who are lactose intolerant, prevention of gas bubbles may be as simple as taking tablets or capsules containing the enzyme lactase when consuming lactose containing foods such as milk, cheese or ice cream. Other digestive enzymes taken with meals may prevent the formation of excessive abdominal gas. Activated charcoal may be taken either before or after meals for the same purpose, but must not be taken for more than two weeks. A short walk after eating can also help prevent an accumulation of gas.
Drink Your Gas Troubles Away
A cup of water containing one or more drops of ginger, peppermint or cinnamon extracts may bring relief from gas pains. Ginger or peppermint tea may have the same effect. According to Dr. Manik Hiranandani, a drink made of 1/2 teaspoon paprika and 1 teaspoon of cumin seed powder dissolved in warm water is an effective remedy for gas bubbles. Hiranandani explains "paprika moves the gas along, while the cumin seed powder helps to break up the gas bubbles in the intestines."

Exercises for Relief
Yoga postures that involve forward bending or twisting are helpful in relieving the pressure of abdominal gas. An adaptation of a yoga posture called "the pump" can effectively release built-up gas. This exercise is performed lying flat on the back, with first one knee, then the other brought to the chest and held for 10 seconds.