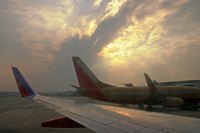 Snowshoe, located in eastern West Virginia, is most widely known for the Snowshoe Mountain Ski Resort. The resort located on Cheat Mountain offers both summer and winter activities. Winter activities include skiing, snowmobiling and tubing. During the summer, visitors can participate in Segway tours, mountain biking, hiking and enjoy the Split Rock Pools. Because of the remoteness of the resort, major airports are an hour or two away.
Greenbrier Valley Airport
Greenbrier Valley Airport located in Lewisburg, West Virginia, is approximately two hours from Snowshoe. Greenbrier services Delta and Continental flights. Delta offers non-stop flights to Atlanta and New York's LaGuardia. Continental offers non-stop flights to Cleveland. Rental car service is available.
Greenbrier Valley Airport, LWB US 219 N Lewisburg, WV 24901 304-645-3961 gvairport.com
Yeager Airport
Yeager Airport located in Charleston, West Virginia, is approximately one hour and 15 minutes from Snowshoe and is the closest municipal airport. Yeager offers flights to 10 major cities, including Orlando, New York, Chicago, Atlanta, Cincinnati, Detroit, Houston, Washington, D.C., and Charlotte. Yeager services several major airlines including AirTran, American, Delta, United and US Airways.
Yeager Airport 100 Airport Road, Suite 175 Charleston, WV 25311 304-344-8033 yeagerairport.com
Upshur County Regional Airport
Upshur County Regional is a small airport providing landing service for business jets and private aircraft. Upshur is located in Buckhammon, West Virginia, approximately 43 miles north of Snowshoe.
Upshur County Regional 104 Barbour St. Buckhannon, WV 26201 304-472-9437 flyw22.com