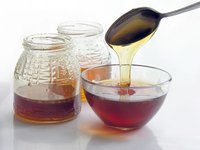 There are many different foods that contain sugar, sometimes known as carbohydrates. A carbohydrate is just a chain of sugars put together, and broken down in the body when consumed. Sugar can come in many different forms, including processed, honey, agave nectar, syrup and other forms. Here is a list of common foods that contain sugar.
Fruits and Vegetables
Fruits and vegetables contain a sugar known as fructose, and a complex carbohydrate known as fiber. Fructose is digested quickly by the body and provides a quick source of energy. Fiber takes more time for the body to break down, and provides energy over time. Fruits have more fructose than vegetables do and provide more of an energy boost.
Bread and Grains
Anything made with flour can be considered a carbohydrate, which is broken down into sugar in the body. Processed, bleached or white flours have had most of the fiber and nutrients processed out of them, so they provide quick energy that the body stores as fat. Whole grains contain slow burning fiber, which your body breaks down into sugars over time and provides a longer supply of energy.
Dairy Products
Dairy products contain a sugar called galactose, and a more complex carbohydrate made of galactose and glucose, also known as the disaccharide lactose. For this reason, even dairy products labeled "sugar free" will contain a small amount of naturally occurring sugar.
Natural Sugars
Natural sugars include honey, maple syrup, agave nectar and raw cane sugar, as well as the sugar found in fruits and vegetables. These sugars contain vitamins and minerals, and are processed more efficiently in the body, so they are less likely to be stored as fat and more likely to be used for energy. Like any sugar, these products should be used sparingly as party of a healthy diet.