Flagstones
The stone pavers commonly referred to as flagstone are usually irregular in shape and size, and they vary in color or texture depending on the type of stone from which the pavers are made. Technically, the term flagstone refers to sedimentary rocks such as sandstone or limestone that have been split into thin layers. However, many manufacturers use the term to refer to igneous rocks such as granite or basalt or metamorphic rocks such as marble, slate or quartzite that have been cut into thin paving stones.
Flagstones are typically thin in their vertical dimension, but paths that will be subject to heavy traffic should be made from stones at least 1 inch thick. Heavily used paths are also best made from hard stones such as quartzite or granite, rather than soft sedimentary stones such as sandstone.
The irregular shape of flagstones requires that they be set in a random pattern in walkways, resulting in a more natural, informal look than is achievable with regularly cut pavers.
Cobblestones
In ancient history, cobblestone paving was constructed with rounded river stones set in sand, but in modern usage, the term usually refers to pavers roughly the size of a paving brick made from a hard stone, often granite. Unlike irregular flagstones, cobblestones are laid in a regular pattern, and because of their long history, they evoke an Old World feel when used in walkways and paths.
Cobblestones are resistant to wear and damage from freezing and thawing, and they stand up very well to heavy traffic. They are relatively expensive to install, however, and if they're not installed properly, they can settle unevenly and weeds may grow between them.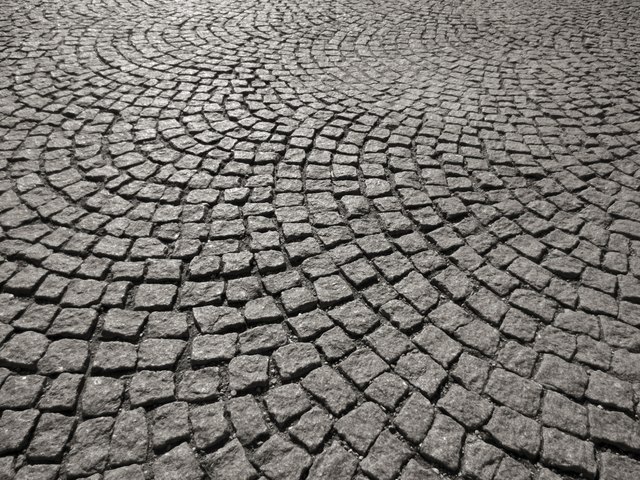 Stone Tiles and Pavers
Stone tiles and regularly cut pavers lie in an aesthetic middle ground between irregular flagstones and cobblestones. They are often made from the same kinds of stone as flagstones, including granite, limestone, quartzite and slate, and their colors and textures are consequently similar. Another common tile material is travertine, a form of limestone characterized by its marblelike texture and wide range of colors.
The regular shapes and sizes of tiles and pavers lend themselves to being laid in regular, deliberate patterns. The variations in color and texture among individual tiles, though, allow for the creation of more elaborate patterns than is possible with homogeneous cobblestones.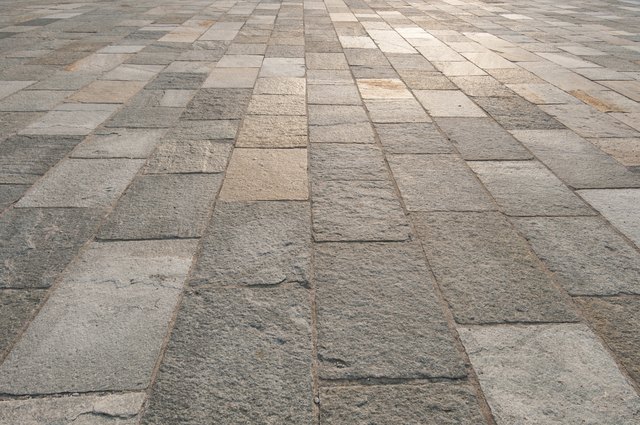 Gravel and Crushed Rock
Compared to other types of stone paving, gravel paths are easy to lay and provide a more forgiving feel underfoot. Crushed rock, because of its relatively small size, settles in time to form a stable surface that is nearly as hard as solid pavement and yet allows for water drainage. Larger gravel, pea gravel and river rock tends to remain more separate and create a more flexible surface.
Gravel can also be combined with flagstones to create the effect of stepping stones within a larger gravel bed.