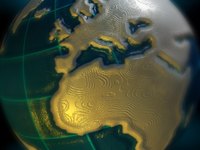 Known as the birthplace of Western culture, Europe is surrounded by the Arctic and Atlantic Oceans, as well as the Mediterranean Sea. Aside from natural features like mountain ranges, forests and numerous lakes for outdoor activities, the continent is also home to impressive architecture dating back in the early baroque period. Sightseeing tourists can take advantage of cheap rates in different countries like Armenia, Hungary, Croatia and Poland where lodging and food costs are relatively affordable.
Armenia
Situated at the juncture of Western Asia and Eastern Europe, this country has mountainous terrain centered on the valley of Ararat, the capital of Armenia in Biblical times. Home to scenic canyons, crystal-clear rivers, and over 200 natural and therapeutic mineral springs, this landlocked region is a haven for tourists looking to explore the wilderness and participate in active sports like hiking, biking, boating and fishing. Frequently called an open-air museum, Armenia has over 15,000 monuments, fortresses and medieval monasteries. Visitors on a budget will find many cheap hotels. To keep hotel costs down even further, tourists can arrange a home stay, apartment rental or go camping. With the scarcity of western fast food franchises, guests can sample reasonably priced local foods like khorovadz, the term for barbecued meat, and kamats matsun, or pressed yogurt.
Hungary
Bordered by Austria, Slovakia, Ukraine, Romania, Serbia, Croatia and Slovenia, this landlocked country is located in the Carpathian Basin in Central Europe. With 11 national parks and a multitude of water formations like Lake Balaton, Europe's largest body of fresh water, Hungary also has an old town charm similar to that of Italy. Here, outdoor enthusiasts can trek the region's mountains like the Zemplén, Bükk and Mátra ranges northeast of Budapest. For less strenuous walks, guests can head to the hills north and south of Lake Balaton. Tourists who prefer rest and relaxation can visit the over 1,300 thermal springs and medicinal baths to relieve stress. Although Budapest is one of the most visited places in Central Europe, it still offers affordable accommodations through its budget apartments and hostels. The rest of the country has more than 400 camping grounds for those who would like to commune with nature. To save on transportation costs, getting around by bikes is fairly easy with more than 1,500 miles of dedicated bicycle lanes.
Croatia
Located in Central and Southeastern Europe and at the crossroads of the Pannonian Plain, the Balkans and the Adriatic Sea, Croatia borders Slovenia and Hungary to the north, Bosnia and Herzegovina to the southeast and Serbia and Montenegro to the east. Home of the Trakoscan Castle, a well-maintained infrastructure built in the thirteenth century, the city's other notable destinations include the Idriatic islands and Plitvice Lakes National Park. The country's main tourist attractions are its 1,103 miles of beaches along the Adriatic coast, and over 1,000 islands lined with natural harbors, bays, ports and marinas. Water sports enthusiasts will enjoy boating, snorkeling, diving and sport fishing here. Accommodations within the area include thrift inns and hostels for guests who are on a tight budget.
Poland
Bordered by Germany to the west and the Baltic Sea and Kaliningrad Oblast, a Russian exclave, to the north, this Central European country is home to 21 mountains, including the Tatra Mountains, the highest part of the Carpathian range along the southern border. Poland's tourist attractions feature captivating baroque and Gothic-style architecture ranging from buildings to churches amidst the background of the sandy white beaches and the sparkling blue ocean water. With almost 10 thousand closed bodies of water, this country has one of the most numerous lakes in the world. Outdoor enthusiasts can enjoy various water sports like sailing, island hopping, fishing and diving here. Cycling is one of the most popular forms of recreation here, with cycling trails running from cities through forestlands; this can bring down transportation costs when getting around town. For budget lodging places, hostels and houses offering agroturystyka, which is similar to the bed and breakfast concept, are plentiful in the area. The Polish Camping and Caravanning Federation also provides 187 patrolled campsites with modern facilities, where guests can pitch a tent, park a caravan or rent a wooden chalet.