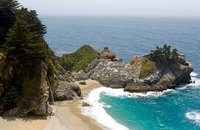 Californians have always regarded the state's vast coastline as both a great place to live and a fantastic vacation destination. With over 1,000 miles of coastline, there is no shortage of activities to be found along California's beaches and seaside towns. From the rugged beauty of Big Sur's rocky bluffs to the sunny seaside city of Santa Monica, visitors never run out of things to do when visiting California's coastal region.
Camping at Big Sur
With so much open space and park land, camping is popular in California. When it comes to beachfront camping, one place is a clear favorite for people in the know: Big Sur. Big Sur is a region of the central California coast, between Monterey and San Simeon, where the Santa Lucia Mountains rise steeply from the ocean. Because the area is remote and fairly inaccessible to a large volume of traffic, it has escaped the rapid development that has occurred along most of the California coast. The area has long been a getaway destination and there are hundreds of campgrounds, both state and privately owned, that cater to travelers. Camping at Big Sur is popular with those who enjoy a real departure from "civilization," as most campgrounds have minimal accommodations and cell phone reception is intermittent. Camp sites are available both on the beach and in the redwood shrouded mountains. No matter what your preference, camping at Big Sur and visiting its small towns is among the most popular activities to be found in California.
Pacific Coast Highway Drive
The Pacific Coast Highway, or Highway 1, is a lengthy scenic drive that runs along the coast of California. Starting in the tiny town of Leggett, the highway hugs the coastline, often on winding, clifftop roads, as it proceeds south toward its ending at Dana Point. The highway is considered to be one of the most beautiful drives in the world. Although driving Highway 1 is a popular activity, the road is not congested with traffic; in certain areas, drivers can travel many miles without seeing another motorist.
Santa Monica State Beach
Santa Monica is the quintessential Southern California beachfront town, with sand, sun and waves in abundance. The beach at Santa Monica is only a small fraction of its appeal, however. Visitors will also find an amusement park, bike paths, shopping and dining along the water and in the narrow streets that lead inland. Santa Monica has over 75 museums and art galleries and countless works of public art for visitors to enjoy, as well as a vibrant culture of eccentric artisans and street performers who ply their trades along the pathways near the beach. Visitors can easily spend an entire day taking in all that Santa Monica State Beach and its surrounding areas has to offer.