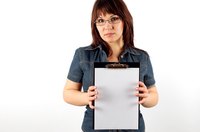 A smooth and effective delivery is critical for a presentation because audiences need certain visual and audio cues to understand and process a message delivered orally. Plus, human beings have notoriously short attention spans, which means that presentation delivery must be top notch to ensure an audience does not tune out.
Voice
A speaker's voice plays a critical role in engaging an audience. Although good presenters have a natural delivery style, this does not mean using the same voice as in casual conversation. Speakers should speak slightly slower and louder than usual, especially at the beginning of a presentation. Monotone voices are also a killer when it comes to delivering a message. Speakers should use purposeful pauses when making a key point and should change their voice pitch from time to time. One exercised used to explain this concept to undergraduate public speaking classes at West Chester University is a drill where students are asked to read aloud from a Doctor Seuss book. Students learn that the delivery style used for reading to children, including varied pitches and speeds, is similar to the one used to engage an audience during public speaking.
Movement
To keep the audience's attention, speakers should use transitional walks as new points are introduced. During a transitional walk, a speaker takes several purposeful steps typically from the center of the room to a side or from the side back to center. This will not only help an audience stay engaged by helping the speaker make eye contact with different parts of the room, but will also help an audience follow the presentation by signaling the start or close of different sections. If the presentation includes slides, the speaker should ensure his position does not block the audience's view.
Clothes
Like it or not, individuals make snap judgments about competence and credibility based on the speaker's looks. The positive is that clothes can also be a powerful tool of persuasion when it comes to public speaking. The clothes a speaker selects should flatter her body and be appropriate to the situation and audience. No matter the style, clothes should be clean, wrinkle free and fit appropriately. If the speaker is already experiencing a case of nerves because of the presentation, this is probably not a good time to try a new outfit or pair of shoes. By sticking to what she knows works, the speaker can focus her energy on the presentation.
Soothing Nerves
A visibly nervous speaker typically does not deliver a smooth presentation. Nerves are common and even appropriate in public speaking because that energy, if focused correctly, can lead to a great presentation. One of the top strategies for calming nerves is preparation. Putting in the work to prepare for a speech can dramatically reduce some of the delivery hiccups caused by nerves such as vocal fillers, like "umm," "ahh," or "you know," or a voice that is too fast or too soft. Practice is key to preparation. In addition, deep breathing and positive visualization can also calm a speaker leading to a smooth delivery. Remember, most audiences want the speaker to succeed.
Eye Contact
Eye contact is critical for an effective delivery; the technique will depend on the size of the audience. One common mistake for beginning speakers is trying to reach all audience members by continuing to scan the room instead of making deliberate eye contact. For smaller audiences, such as a business meeting or classroom setting, the speaker should make eye contact with an individual for several seconds. Eye contact should be changed as new thoughts are introduced. If making direct eye contact sounds scary, the speaker should pick a few friendly faces from each section of the room before the presentation begins, and then vary eye contact with these individuals. For bigger audiences, where individual eye contact is impossible except for the first row, the old advice of looking at the back of the room makes more sense. Regardless of the audience size, eye contact should at least shift from section to section.
Visual Aids
A great visual aid is like an accessory to an outfit. If used correctly, it draws out, enhances or explains the main points of the message but does not overpower key concepts or distract from delivery. A common delivery pitfall is relying too heavily on presentational aids or assuming that whiz-bang technology alone will be enough to convince an audience.
Effective visual aids are simple and appropriate to the audience. If using Power Point, ensure that the font is large enough to be read from the back of the room, and stay away from distracting animations, colors or styles.
When it comes to visual aids, practice, practice, practice. Think of anything that could go wrong, such as a computer dying just before your Power Point presentation, forgetting your handouts or a sound system malfunctioning during a video. Have a backup plan. Proper delivery means that visual aid or no, the show must go on.
Podium
Many novice speakers feel that they must use a podium, as it can seem to offer some "protection" from fears of facing an audience.
However, using a podium literally and figuratively puts distance between speaker and audience, which can hinder the connection the speaker is trying to make with his delivery. Unless there is a specific reason for using the podium, such as during a very formal event, speakers should address the audience directly. If a podium must be used, speakers should pay attention to their posture, since many lean lower into the podium until they are almost hovering over it by the end of the presentation.