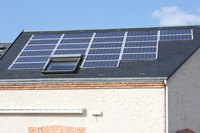 Solar energy does not give out harmful emissions and is not a resource that is likely to be depleted like fossil fuels are. Though regarded as a viable alternative to fossil fuels, solar energy comes with some inherent disadvantages. The viability of solar energy depends on many conditions, and one should weigh the disadvantages before using solar energy as the only source of energy in a household.
Costs
The infrastructure for generating solar energy comes at a high price. The government offers many tax incentives and rebates for those who choose solar energy as a power and energy source for their household. The average household in the U.S. uses 25 kilowatts of energy per day. A photovoltaic solar energy system required to generate this amount of power would cost $97,250. Additional costs of wiring, hardware and installation are likely to cost around $10,000. Despite all the available incentives, the cost of using electricity from fossil fuels is less than the cost of purchasing the apparatus needed to generate solar energy, at least initially. Solar energy will provide savings only in the long term.
Location
Solar panels and energy-generating equipment work best in sunny climates. Those who live in places with little sunlight or places with short summers and long winters will not get the benefit of solar energy as an alternative form of energy. Solar panels will not work effectively in houses surrounded by shade trees or tall buildings where direct sunlight cannot strike the solar panels directly for long periods of time.
Consistency
Charging a solar battery and keeping it as a backup can overcome the problem of insufficient sunlight. However, the battery too needs the sun to charge. Batteries cannot charge overnight or in overcast conditions.
Atmospheric Conditions
Atmospheric conditions like clouds or atmospheric pollution will cause the apparatus use to generate solar energy to function at reduced efficiency. Cloud cover and pollution will inhibit the sun's rays from striking the solar panels and reduce the efficiency of the energy-generating system.