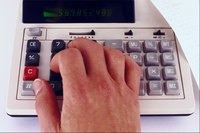 Payroll is a time-consuming job that many employers would rather not perform. Consequently, they hire payroll professionals. There are many different levels to payroll, such as a payroll clerk, payroll administrator, payroll supervisor and payroll manager. Payroll as a whole involves a number of detailed tasks to ensure that the process goes smoothly.
Payroll Processing
Payroll processing is an integral and unavoidable part of payroll. It includes computing employees' time via time cards, figuring salaries, determining federal and state income tax amounts and figuring retirement and health benefits payments and other voluntary deductions. Payroll also includes paying and tracking benefit days, such as vacation, personal and sick time, and holidays. Many companies use payroll software, which does the calculations. Still, the payroll person must know how to perform the calculations.
The payroll person must also verify the payroll before closing it, correct any errors found and send the direct-deposit file to the bank, if applicable. She must check with the bank to ensure that the file has been properly received. She should have a good understanding of payroll procedures and related laws to competently perform these duties.
Tax Reporting
Sometimes the payroll person is responsible for reporting the company's wages and paying its taxes to the government. This includes paying both the employer and the employee's portion of taxes. In some instances, the finance/accounting department handles these tasks. If the payroll person is responsible, she must ensure that the taxes are appropriately withheld from employees' paychecks, and that all filing and tax deposits are made on time. If she is not responsible, she must work closely with the appropriate department to ensure that they have the necessary documents to file and pay these taxes. Some companies use a tax company to handle their payroll taxes. In such instances, the payroll person sends the payroll tax files to the company each pay period.
Payroll Accounting
The transactions that occur within the payroll system must be streamlined with the accounting system; hence payroll accounting. This involves entering wages and deductions into the payroll journal and reconciling the payroll accounts. Payroll accounting includes revising existing payroll accounts within the accounting system and determining if new accounts are needed. The payroll accountant guides the payroll staff on how to handle difficult issues within the accounting structure.
Record-keeping
According to the U.S. Department of Labor, employers are required to keep payroll records for at least three years. Payroll records, upon which income computations are based, such as time cards, should be preserved for at least two years. Payroll involves ensuring that proper payroll records are maintained and are open to internal and external audits.