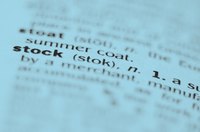 A convertible bond is a debt security that gives the investor the option to exchange the bond for common stock in a company after a predetermined date or event. The value of the bond depends upon the issuer's credit and the current interest rate. The most common types of convertible bonds are the vanilla convertible bond, the mandatory convertible bond and the contingent convertible bond.
Vanilla Convertible Bonds
As the name hints at, the vanilla convertible bond is the standard and most common type of convertible bond. These bonds can be converted into common stock when a predetermined event has occurred or when a predetermined period of time has passed. These bonds may not be redeemable before the final maturity date if predetermined share price conditions have not been met.
Mandatory Convertible Bonds
A mandatory convertible bond must be converted into the issuer's common stock before or after the final maturity date. These securities are short-duration securities and provide a higher yield rate to compensate the issuer for the mandatory conversion. A fixed amount of shares the bond can be converted into is also predetermined.
Contingent Convertible Bonds
Contingent convertible bonds are similar to vanilla convertible bonds in that they can be converted when the stock price reaches a certain point (this is referred to as the "strike price"). The difference with contingent convertible bonds is that the stock price must reach a predetermined percentage above the "strike price" before it can be converted by the investor.
Exchangeable Bonds
In a strict sense, exchangeable bonds are not convertible bonds, but are commonly grouped together with convertible bonds. These bonds can be converted into the common stock other than the stock held by the issuer. The stock is usually in another company of the issuer.