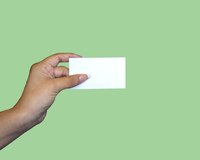 A commercial real estate agent can help you select property for your company or business, as opposed to residential property. Because this is a big decision that involves a lot of details, it's important to interview your commercial real estate agent ahead of time and ask some key questions.
Background
It's important to ask a commercial Realtor about his background. You can ask questions such as the following: How many transactions have you performed? What is your experience in this type of business? How long have you worked in commercial real estate? Do you have some references I can call? You can also ask to see the agent's resume for further information.
Fee
Of course, anyone purchasing commercial property will also want to know what the commercial real estate agent charges in commission. This will usually be a percentage of the total deal. Don't be afraid to ask, "what is your commission?"
Specialization
In addition, you can ask your potential commercial real estate agent what she specializes in. Some commercial agents specialize in restaurants, some in large business deals, and some in certain locations. This question will help you identify if the person is a good fit for you and your needs.
Office Size
Finally, you can ask, "who will I primarily be working with?" If the agent works for a large company, you might be dealing more with assistants than the actual agent you have interviewed. This relationships should be comfortable, so it's important to know ahead of time who you will be dealing with as you search for commercial real estate property.