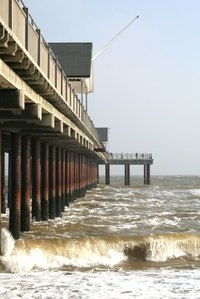 The North Carolina coast is bustling with family oriented beaches that help vacationers enjoy and take time away from the buzz of routine life. The long stretches of sandy beaches from Outer Banks to the southeastern-most Brunswick Beaches offer peaceful blue waters and endless landscapes of beauty. Knowing which beaches are available can help you plan a fun and affordable vacation for all to enjoy.
Best Boardwalks
The boardwalk is becoming a piece of history as natural disasters take them away from the North Carolina Coast. Here are some boardwalks that are considered amongst the best:
Wilmington: This boardwalk lies amidst Wilmington's shopping and entertainment district. Crystal Coast: Located on Carrot Island, trips to this boardwalk are made at high tide which also serves as the entryway to the Island. Beaufort: Located by the Dock House restaurant, the view from the boardwalk is exceptional and includes Carrot Island's wild horses. Nags Head: The boardwalk at Jockey's Ridge State Park provides a great view of the sand dunes.
These boardwalks offer both family-oriented and romantic settings to suit everyone. Most have entrances from hotels, condos or other amenities for easy access to the beaches and are lined with shops, food establishments and arcades.
Family Friendly Boardwalks
The many family friendly boardwalks in North Carolina offer many activities that appeal to both children and adults. Most boardwalks have scheduled daily activities for families, couples and individuals to enjoy such as carnivals, vendors, street shows and other forms of entertainment.
Figure Eight Island: The boardwalk runs along the front of private homes and hotels. Pine Knoll Shores: This handicap-accessible boardwalk allows for a great view of the sand dunes. Corolla: The CAMA Sound Boardwalk, located at Currituck Heritage park, cuts through a small portion of brackish marsh and swamp forest. Rodanthe: Many rentals upon this beach have private boardwalks that connect to the main boardwalk. Benches along the way provide a place for families to sit and enjoy the ocean, which is safe enough for the kids to play. Caswell Beach: Fireworks shows are given at the beach throughout the summer. The boardwalk runs along the Cape Fear River and contains many shops for the shopping enthusiast. Bald Head Island: The boardwalk is located over a marsh, and offers great views.
Pet-Friendly Boardwalks
When you want to take your furry best friend on vacation with you, try these beaches with boardwalks that are pet-friendly:
Atlantic Beach: This oceanfront boardwalk contains many souvenir shops along the way. Carolina Beach: This famous oceanfront boardwalk consists of shops and an amusement park. Kure Beach: This boardwalk is lit up at night for a lighted stroll.
Some beaches have rules regarding dogs on the boardwalks themselves; there may be a complete restriction or designated times which are posted on signs at the boardwalk entry. Some beaches do not allow pets after a certain time of day while others offer admission at all hours of the day. A "pooper scooper" ordinance is in effect on all beaches but the rules for a particular beach may change over time.