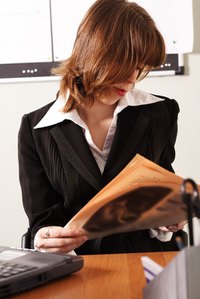 Working in an office environment in an administrative or clerical role requires a diverse array of skills and knowledge. An office staff typically lends support and organization to the infrastructure of a business, which can change day to day. The types of skills and information a member of an office staff should know can be loosely divided into five categories: project management and execution, office oversight, information organization and dissemination, office technology, and contributing to the office culture. While these duties may seem radically different, they all require initiative, independence and flexibility.
Both Large and Small Tasks
Office staff are frequently expected to initiate or complete projects. These projects may be small and immediate, such as reorganizing a supply closet, stuffing envelopes for a mail-out or creating flyers. They can also be on a larger or ongoing scale, such as being responsible for the accounts receivables or payables of a business and planning company meetings or executive travel itineraries. Office projects, whether they be large or small, require organization, self-motivation and attention to detail.
Office Management and Oversight
Management and oversight duties play an increasing part in many office jobs. An office worker may be asked to keep track of the supply stock and be responsible for re-ordering supplies when stock levels are running low. She may act as a hub of information and be asked to disseminate information to executives' personal assistants or secretaries. She may also be asked to field resumes and even do screening interviews for human resources purposes.
Information Handling
An office worker needs to know how to effectively handle, organize and distribute important information within the business. This can be as basic as relaying telephone messages accurately, handling of business correspondence or distributing inter-office mail to the correct recipients. Information handling can also include complex tasks such as database management, bookkeeping, managing the travel itineraries of superiors, performing detailed record-keeping and data entry, writing business reports, and implementing an organized system of file keeping within the office.
Office Technology Skills
Familiarity with common office technology is important for those desiring an office job. He must know how to use general and common office equipment such as a fax machine, a copy machine, paper shredders, time cards, telephone line systems, and, of course, computers. Computer technology has become an integral component of many office environments, and an office worker should know, at minimum, how to send and receive emails, basic data entry, and the creation of documents using a word processing or spreadsheet program. Typing is an essential skill for many of these tasks.
Interpersonal Skills
Most offices have more than one staff member, so the importance of professional interpersonal skills for an office job can't be understated. An office worker should have the ability to work in a team, take constructive criticism and direction from supervisors, and cultivate a friendly, professional demeanor, both in person and over the phone. Contributing to the morale of the office culture is a crucial aspect of any office job.