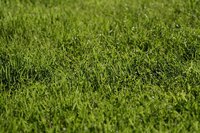 Brown patch, also called Rhizoctonia blight, affects Bermuda grass, centipede grass, Kentucky bluegrass, bentgrass, St. Augustine and rye grasses in areas of high humidity and lots of shade. The disease presents itself as a small patch of brown grass that quickly spreads outwards. The center of the patch often recovers, leaving a brown ring.
Chlorothalonil
Chlorothalonil in the liquid form kills fungi on contact. The advantage of using Chlorothalonil is that even when the application is followed by rain, it will still work to kill the fungi. It will also filter into the soil and provide a residual that lasts for approximately one week. According to the Extension Toxicology Network, the half-life for chlorothalonil can last up to three months. However, the warmer the temperature, the faster the fungicide will degrade. Chlorothalonil trade names include Bravo, Forturf, Mold-Ex and Tuffcide.
Chlorothalanil is a aromatic halogen compound with a molecular weight of 265.89 g/mol. The chemical name for chlorothalanil is 2,4,5,6-tetrachloroisophthalonitrile. It is produced by treating tetrachloroisophthaloyl amide with phosphoryl chloride. The molecular formula is C8Cl4N2, which includes carbon, chlorine and nitrogen.
Triadimefon
Triadimefon provides a "fair to good" treatment for brown patch, according to the Texas Disease Plant Handbook. The application interval is 30 days, one of the longest intervals for a brown patch treatment. This systemic fungicide can be used in the treatment of several fungal pests. Trade names for triadimefon products include Bayleton and Amiral.
Triadimefon has a molecular weight of 291.73 g/mol. The chemical composition of triadimefon is 1-(4-chlorophenoxy)-3,3-dimethyl-1-(1H-1,2,4 triazol-1-yl)butanone. The molecular formula is C14H16CIN3O2, which includes carbon, hydrogen, chlorine, nitrogen and oxygen.
Myclobutanil
A sterol inhibiting fungicide, gardeners primarily use myclobutanil as a protectant, but also useful as a brown patch treatment. It specifically inhibits ergosterol biosynthesis. The ergosterol is a key component of fungal cell membranes. But inhibiting the sterols, the fungi is killed. Myclobutanil must be reapplied every 7 to 10 days as long as the conditions remain conducive for brown patch. It is available in both granules and a concentrated form under the trade names Spectracide Immunox, Ferti-lome F-Stop Lawn Fungicide and Green Light Fung-Away.
Myclobutanil has a molecular weight of 288.9 g/mol. The chemical name of myclobutanil is 2-p-chlorophenyl-2-(1H-1,2,4-triazol-1-ylmethyl)hexanenitrile. The molecular formula for myclobutanil is C15H17CIN4, which includes carbon, hydrogen, chlorine and nitrogen.