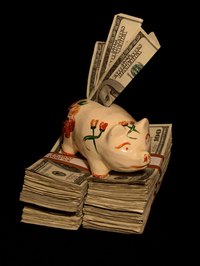 Universal life insurance is designed to provide you with permanent insurance that will still have value when you pass away. The problem is that it doesn't always work as it was designed to do. Even with all its problems, universal life is still better than whole life insurance. You need to be aware of the shortfalls of universal life before you purchase a policy and as you pay your premiums.
Keeping the Policy In Effect
Though universal life is touted as permanent insurance, if the value in the policy drops to nothing, then the policy may unexpectedly lapse. With universal life, this can happen if you pay the minimum premium in a poor economy while taking a loan from the policy. In this instance, you are withdrawing more than is being put into the account. Once the policy has lapsed, reactivating it will be more expensive than the policy that lapsed.
High Premiums
Universal life insurance premiums combine an insurance cost and an investment cost. Your risk of dying increases as you age; therefore, your insurance premium increases. Universal life has a level premium, which means very little of the premium goes into the insurance portion of your policy and your investment portion will decrease as you age. This means that the premium you pay in the early years of your policy is much higher than it needs to be for insurance coverage.
Minimum Premium
Universal life allows the policyholder to choose how much the premium for the policy will be within certain limits. If the person pays only the minimum premium, the policy will not increase in cash value, according to the Virginia Cooperative Extension. This is because the minimum premium only covers the insurance costs and other administrative fees.
Poor Investment, Expensive Insurance
While universal insurance provides a policyholder with both life insurance and savings, it does not do a good job of either. Because of fees and commissions, the insurance portion of your premium costs more than it would if you shopped around for term life insurance. Similarly, the investment portion of universal life accounts tends to have lower returns than other investment vehicles, according to Senior Journal.
High Commissions
To give insurance agents an incentive to sell universal life insurance, the commissions for selling a policy are much higher -- in the range of 70 percent for the first year and around 5 percent a year thereafter, according to Senior Journal. This means that most of your premiums in the first year are neither protecting you with insurance nor providing you with a significant amount going into savings. Many mutual funds have annual administrative costs under 2 percent.