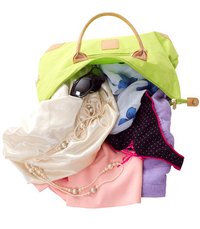 The excitement of an impending weekend getaway can be all you need to pull you through the busy workweek. With all of the planning and anticipation, the last thing you need is to be worried about what to pack. Following easy guidelines and keeping it simple will assure that you are fully prepared for a wonderful weekend, whether you are visiting relatives or embarking on a weekend adventure with friends.
Clothing and Shoes
When considering the clothing you would like to bring on your weekend getaway, think simple. Choose classic pieces that complement each other so you have a number of options that are guaranteed to match. Since you probably do not want to drag around a huge suitcase for your short trip, select lightweight pieces that do not easily wrinkle if possible, do not overpack, and make sure you have the basics. For a weekend in the city, pack items such as a pair of jeans for the day, a skirt or dress if you plan on going out, a pair of khakis or black pants, and a small selection of tops. For a beach or country getaway, be sure to pack jeans or shorts, a bathing suit, cover-up, and flip-flops. For any trip, bring along one pair of casual shoes and a dressier pair. Of course, you do not want to forget underwear, socks and/or hosiery, pajamas, and perhaps a sweater or jacket.
Accessories
Accessories can instantly change the simplest of looks, plus they barely take up any room. Pack a couple of your favorite (inexpensive) necklaces, earrings or bracelets to make your weekend outfits look even more polished and put-together. If needed, pack a belt as well.
Toiletries
Remember to pack your regular cosmetics as well as any other necessities including hairstyling products, toothbrush and toothpaste, tweezers, a razor, face wash, and eyeglasses or contacts. If you are heading to the beach, do not forget a tube of sunscreen. Pack your toiletries in plastic in case something leaks, and be sure to follow airline restrictions concerning liquids if you will be flying.
Extras and Planning Ahead
Of course, you do not want to leave the house without your wallet, complete with ID, some cash and credit cards. You may also want to check the weather ahead of time to plan for anything you may need for unexpected weather, such as an umbrella or a heavier jacket. Also, consider what additional items you may need for any special activities you have planned.
What Not to Bring
There are some items that you can most likely borrow from your host or hotel rather than cramming them into your bag. Bulky items such as hairdryers, robes and bath towels are usually not necessary to bring along (check with your hotel). If your bag absolutely will not hold anything else, you may even leave behind items such as shampoo, conditioner, lotions and toothpaste. Many hotels provide these things for free, and if you are a guest in someone's home, your host is sure to have these things on hand.