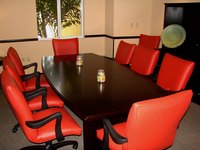 Mergers and acquisitions are always a troubling subject for companies on either side of the merger. Employees in the company being acquired may fear for their jobs, a fear not entirely unfounded. Risk minimization during acquisitions is critical because mergers present a real threat to the continued survival of the purchasing company. According to a 2005 paper by Brent E. Allred, Kimberly B. Baal and William K. Holstein of the Academy of Management, roughly half of all mergers fail. Bearing the risks in mind, it is possible to develop a checklist to avoid as many risks as possible.
Hold Transitional Seminars
During the early phases of the merger process, it can be helpful to host a series of transitional seminars in which employees both observe and participate. Ensure that seminars are on paid company time, because fostering a sense of resentment is the last thing you want to do during this time. The content of the seminar should clearly outline your corporation's values, short-term goals and your company's mission statement. It is acceptable to break the seminar series into boardroom-sized groups and single sitting segments in order to reduce costs associated with renting a full-size seminar location.
Prune the Management Tree
A regrettable but often unavoidable step of a merger is evaluating newly acquired management personnel for their compatibility with your corporation. As managers progress through the ranks, they may naturally learn traits that can clash with those of your organization. What you're looking for are individuals who are able to operate by the new company's standards rather than that of their old company if they are incompatible. There are a few ways you can handle this difficult process. The first is to treat all management equal and hope for the best results. Unfortunately, an egalitarian approach is not always the answer. It may result in an erosion of your company's practices in favor of the company you have taken over. Maintaining the corporate identity of your business is essential for continuity of management.
Transition Non-Management Staff
Acquiring a plethora of new employees all at once can be a daunting situation. In order to enter it prepared, have some skill-analysis software ready to test new staffers. This is a time to gauge employees' psychological profiles, technical skills, social capabilities and willingness to cooperate with new management. Be on the lookout for individuals who have gone underutilized in the previous organization. When dealing with new employees acquired through an acquisition, emphasize the growth of their organization into yours and avoid negative terminology such as takeover. Your goal is to instill the idea that the new company is and always has been the newly acquired employee's friend. Offering to subsidize advancement of employee skills based on the criteria of a long-term contract will build a sense of loyalty among new employees; just be sure to offer the same benefits to preexisting staff.