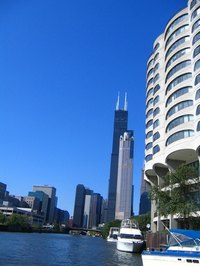 Chicago, Ill., is one of the most well-known cities in the United States, thanks to movies, art, television shows, fashion and music. As the second-largest city in the country, it is full of rich culture, diverse music and nightlife, activities, sightseeing and fine dining. When planning a trip as a couple to Chicago, aim to go when the weather is best, either in the spring or fall seasons. Several activities are available for couples in this city.
Rush St. and Division St.
For those who love a bounty of music, nightlife and delicious food, you can't miss the northbound strip of Rush and Division. In the middle of Chicago's Gold Coast, this street provides cafes and restaurants that range from laid-back people-watching to elegant four-course dining. You can find intimate martini lounges at which to spend your time together, or you can mix and mingle at some of the larger dancing clubs. Also at your fingertips are delis, blues bars, jazz clubs and great shopping, so get there early in the day and experience a taste of what Chicago has to offer.
Rush Street and Division Street Chicago, IL 60610 rushanddivision.com
Navy Pier
Tourists shouldn't leave Chicago without a visit to Navy Pier. This pier is a full-day excursion and are for those couples who like to have fun and bring out the fun-loving kid inside. With over 50 acres of parks, a beer garden, lakefront playground, promenades, garden strolls, shops, delis and restaurants, the Chicago Navy Pier gives you a taste of outdoors. But there are also indoor attractions, such as the Navy Pier Shakespeare theatrer an IMAX theater, and other live music venues. Don't miss a ride of the Ferris wheel and a nighttime fireworks display. You can also visit the Chicago Crystal Gardens (an indoor botanical garden) and the Chicago Children's Museum.The best way to get here is public transportation, with buses going directly to Navy Pier.
Chicago Chocolate Tour
You can't get more romantic than a chocolate tasting with your sweetie. Go on a guided walking tour of the Magnificent Mile and learn about Chicago's chocolatiering. You get to taste some of the best chocolate samples around with other tourists and locals. Prices vary but are usually under $50.
Chicago Chocolate Tours 312-929-2939 chicagochocolatetours.com
Greektown Visit
Explore a new culture and check out Greektown, an old haven for Greek immigrants from the late 1960s. The first Greeks immigrated to Chicago in the 1840s, and the culture's influence is found everywhere, particularly in cuisine. This area is popular with locals and tourists for the delicious food and can't-be-beat gyros, the Hellenic Museum and Cultural Center, and yearly festivities and parties. Try something new at a specialty store, or take a free seminar to learn about Greek culture and history. There are also guided tours available that highlight all the major Greek attractions, such as the St. Basil Greek Orthodox Church and the museums.
Greektown Halsted & Adams Chicago, IL, 60661 greektownchicago.org