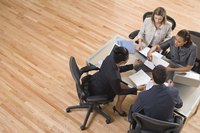 Before building an online business, you must decide how your business will generate profit. There are a wide variety of online business models to choose from. However, at the core these models are not much different from traditional business models — they sell a product, service or information for profit. Three well-used online business models are the merchant, the shopping portal and the subscription service model.
Merchant
The merchant business model is used by retailers and wholesalers of consumer goods and digital products (e-books, software applications.) The merchant can sell products directly from a website or through an auction site and make a profit by pricing the item higher than it was purchased for. The selling price is determined by figuring the cost of purchasing, managing and selling the product so that amount can be recouped in the sale of the item. The retailer adds a percentage to the cost in order to make a profit.
Shopping Portal
The shopping portal business model creates profit by becoming an intermediary and bringing business to the merchant's business. This model is based on building a website or portal that attracts customers and sells products through a coded link that identifies the website responsible for the sale. The shopping portal is paid by the merchant for the sale. This type of business model requires little start-up cost because there is no need to purchase an inventory of products. However, the cost of advertising and a public relations campaign is necessary to draw visitors to the site.
The shopping portal business model does not set the product price and typically works within the manufacturer or retailer's terms of service to earn a profit. Affiliate businesses that build large and well-trafficked portals often strike more profitable deals with the seller because of the large volume of business they can generate. These large sites may actually charge the manufacturer or retailer to list their products and also make a percentage of profit from every sale they initiate.
Subscription Services
The subscription business model generates profit through the fee-based use of information, a product (software) or a service. Customers pay fees on a monthly, daily or yearly schedule whether or not the customer uses the service or content. Information can be delivered in audio, text and video formats or the business can be a secure conduit for the exchange of information among users.
This model can generate more profit when additional services are available for the customer to include in their monthly fee. Expert content, cloud computing and movie sites like Netflix are examples of the subscription business model. Some subscription sites offer a free service (a limited version of fee-based content) to draw customers to their premium content.