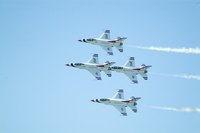 Although retirement packages for active-duty members of all branches are uniformly paid by the Department of Defense to retired veterans, it's still difficult to determine what retirement plan you qualify for--and in many cases, which will serve you better--when you begin to plan your retirement from the Air Force. All service members much reach 20 years of active duty, or equivalent service in the reserves, to qualify for Air Force retirement plans, and retirement pay is partially calculated by when they entered the service.
Airmen Who Joined Before Sept. 8, 1980
The final pay plan applies to the longest-serving airmen. Members of this retirement plan receive 50 percent of their final year's salary upon retirement, with a 2.5-percent bonus for each additional year beyond 20 years of service provided. Airmen who serve 40 or more years retire at full pay for their final year.
Airmen Who Joined After Sept. 8, 1980
The High-3 retirement plan bases retirement pay figures on the average salary from an airman's final three years of service to calculate his base retirement rate. The Department of Defense multiples that base rate by 0.025 for each qualifying year of service to calculate retirement payments. Airmen who retire after 20 years service receive 50 percent of their High-3 base pay each year, while anyone who retires after 40 or more years of service receives 100 percent of his High-3 base pay per year.
Airmen Who Joined After Aug. 1, 1986
Airmen that joined the Air Force after Aug. 1, 1986 may opt to take either the High-3 retirement plan or the CSB/Redux option. With the latter option, airmen agree to at least another five years of service once they reach their 15-year mark, and immediately receive a $30,000 payment, which can be paid in a lump sum or as an annuity. In exchange for that payment, these plan members receive a smaller pension when they retire. Their retirement base pay is calculated by averaging their three highest-paid years in service. This figure is multiplied by 0.025 and the number of years the airmen served to calculate the percentage of their retirement pay they receive; this percentage is reduced by 1 percent for every year less than 30 years the airman has in the Air Force. For example, a retiree with 27 years in the Air Force would receive 63.5 percent of his base retirement pay [27 x 0.25 – 1 x (30-27)]. Once an airman reaches 30 years of service, he retires without penalties against his retirement pay.