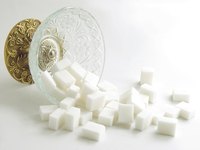 Many types of food contain carbohydrates. A carbohydrate is made of sugar molecules, and is broken down into sugar in the body. While complex carbohydrates contain three or more sugar molecules in a long chain structure, simple carbohydrates only have one or two. Complex carbohydrates take longer to digest than simple carbohydrates. Some common complex carbohydrates are starch and fiber, while some simple carbohydrates include processed sugar (sucrose) and fruit sugar (fructose). Here is a list of some common carbohydrate sources.
Fruit
Fructose is a simple sugar found in fruit. Fruit also contains essential vitamins which help your body use the energy from the carbohydrates more efficiently. The fiber in fruit is a form of complex carbohydrate. Complex carbohydrates digest more slowly than simple carbohydrates. Fiber also keeps you more full for a longer time, and helps keep your blood sugar level. The fructose is fruit is a good source of quick energy, while the fiber will be long lasting.
Dairy
The main sugar found in dairy products, such as milk and yogurt, is called galactose. This is a simple carbohydrate. Milk contains vitamins and minerals that help your body use the carbohydrate more efficiently. Dairy is a source of simple carbohydrate, and will give you quick energy. Galactose is known as a "brain sugar" because it is necessary for nervous system tissue to function.
Whole Grains
Whole grains are a good source of fiber-containing complex carbohydrates. They have not been processed, so they still maintain their natural vitamins and minerals. Whole grain pastas, breads, cereals or other whole grain options are healthy forms of long-lasting energy for your body.
Vegetables
Vegetables are a good source of complex carbohydrates due to the fiber they contain. They also provide essential vitamins, minerals and enzymes that your body needs. Vegetables also contain no fat and have many other health benefits. A healthy diet includes a daily intake of vegetables.