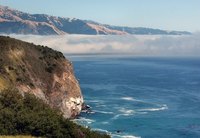 The entirety of the Pfeiffer Big Sur State Park grounds are "clothing required" by law. However, many naturist resorts in and around Big Sur offer clothing optional areas where guests can sunbathe or swim in the nude. Reservations are required at these resorts, and charges apply for accommodations or use of nudist areas.
Ventana Inn & Spa
This luxury resort overlooks the Pacific ocean and is situated on 243 acres of land in the heart of Big Sur. Travel + Leisure magazine named the Ventana Inn one of the "Top 500 Hotels in the World" in January, 2009. Clothing optional areas include one swimming pool, a sun deck and a portion of the adjoining bathhouse.
Guest rooms, suites and villas are available for reservation, all of which are finely appointed. An on-site restaurant serves high-end, seasonal fare made from local ingredients. The on-site spa offers full treatments, and the bathhouse offers Japanese hot baths. The on-site fitness room is open daily.
Esalen
The Esalen Institute in Big Sur functions as a center for learning and includes a work study program. The on-site Esalen Hot Springs were designed by Mickey Muennig, after the original hot springs were damaged by the El Nino storm of 1998. Clothing is optional at the springs, and most visitors choose to bathe in the nude. Although the hot springs at Esalen are open around the clock, they are only available to non-guests in the afternoon.
The hot springs are located just 50 feet above the Pacific Ocean, affording visitors up-close views of the waters below. Esalen offers 500 workshops each year, geared toward mind and body exercises such as yoga and meditation. In addition, farm and garden apprenticeships are available to skilled applicants in season.
Tassajara Zen Mountain Center
Located in the Ventana Wilderness--about 13 miles East of Big Sur -- this resort serves primarily as a Zen monastery. Visitors are welcome to stay at Tassajara in groups or as individuals, and accommodations range from dorm rooms to private cabins. In public areas, clothing is required and modesty is encouraged in order to preserve the monastic setting. However, the bathhouse is clothing optional and nudists are welcome.
Day guests are welcome for a fee. Vegetarian cuisine is available in the on-site restaurant. Reservations are required and are only available from May through September.