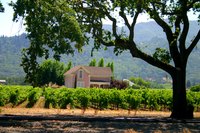 The Napa Valley Wine Train is a popular way to tour California's Wine Country. It follows tracks laid down in the 1860s from Napa to St. Helena and back. In addition to the 3 hour day tour, guests on the Wine Train have the option to purchase several overnight packages, which include accommodations at Napa Valley hotels, meals on the train or at Napa Valley restaurants, and wine tastings at selected vineyards or in downtown Napa.
Napa Valley Wine Train 1275 McKinstry St. Napa, CA 94559 1-800-427-4124 winetrain.com
Napa's Deals Without Wheels
The Deals Without Wheels package allows travelers to experience Napa from the beautifully restored Pullman Dining, Pullman Lounge and Vista Dome rail cars of the Wine Train, without any need to drive. The package includes transportation to Napa from San Francisco, via ferry and shuttle, a gourmet lunch on the Wine Train, overnight accommodations and breakfast at the Napa River Inn, and two cards good for tastings at 13 downtown Napa wine tasting rooms. The Napa River Inn, located in downtown Napa at the Historic Napa Mill, includes four award-winning restaurants, shopping, wine tastings, a jazz club and a spa. Downtown Napa is home to dozens of boutiques and wine tasting bars.
River, Rails and Wine Trails
The River, Rails and Wine Trails package is a two-day tour that includes an overnight stay and breakfast at the River Terrace Inn, lunch on the Wine Train, a limousine tour of four Napa wineries and a catered picnic lunch. At the River Terrace Inn, which is known for its "Napa Valley feel" and elegant contemporary decor, you'll have a choice of a River Front room, overlooking the Napa River, or a Village Side room. There is an additional cost for wine with lunch on the Wine Train, and for tastings at the wineries. Transportation to and from the River Terrace Inn is not included.
Hilton Rail and Relaxation Package
As beautiful as the wine country is during the day, it may be even more beautiful at night, when the lights of the towns and vineyards sparkle across the rolling hills. This package includes an evening Wine Train tour, with a gourmet dinner prepared on the train from "environmentally responsible ingredients, humanely raised, hormone free meats and fresh, line caught fish." The overnight accommodations at the Napa Hilton Garden Inn provide a host of amenities. Enjoy wireless Internet service. Soak in the pool or get pampered at the spa.