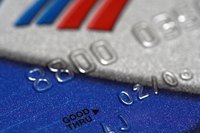 From the moment you use your first credit card, you have to make a decision about how you are going to pay the bill. The best way to pay your credit card depends on your financial situation, the interest rate of the cards and the amount you owe the credit card companies.
Pay the Balance in Full
If you can afford it, pay off the credit card balance in full. Doing so will avoid future interest rate charges, which will make you spend more money overall. To pay your balance in full, look for the section on your credit card statement that says, for example, "Total Amount Due," and pay that amount.
Pay the Minimum Payment Due
If you cannot pay back all the money you charged toward the credit card, you should at least pay the minimum amount due. The minimum amount you need to pay is what the credit card company requires of you to remain in good standing with them. When you only pay the minimum amount, however, you will also pay interest on the balance, which is like a fee the credit card company adds to your bill for lending you money. If you pay anything less than the minimum amount due, the credit card company will consider you payment late. When this happens, your next bill will include a late payment fee, and you may find a new, higher interest rate.
If you cannot afford to pay the minimum amount due, call the credit card company and explain your situation. Because they would rather receive a smaller payment than no payment, the credit card company may be sympathetic to your situation and set up a payment plan that includes lower monthly payments and/or lower interest rates.
Pay the Minimum Amount, and Then Some
When you used a credit card to make a large purchase, but cannot afford to pay off the total balance on the card, try to pay more than the minimum amount due whenever possible. The extra money you pay will go toward paying off the principle balance you owe and not the interest. When you have a lower principle balance, you will pay less in interest.
Pay More than Once a Month
Similar to a mortgage, when you make payments towards your credit card every two weeks, more money goes toward paying off the principle balance. Consequently, you will pay less in interest. To do this, divide your minimum amount due by two and pay that amount every two weeks, ensuring the credit card company receives the total minimum amount due in time.