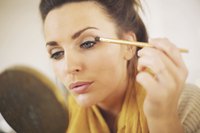 Your mission when you walk into any party is to immediately turn heads. There's no greater validation than making people wonder whether you just naturally woke up this beautiful or whether it took some work. Adopt a few pre-party moves and leave everyone at the party wonderstruck.
Appear Thinner
A few days before the party, cut out carbs and dairy and stick to lean proteins and vegetables. Carbs encourage the body to retain water, while dairy's slow digestion leads to body bloat, according to nutritionist Kimberly Snyder in an interview with "Harper's Bazaar" magazine. She recommends eating strategically before the party, filling up on water-rich vegetables like watermelon, leafy greens, cucumbers, celery and asparagus which can help fill you up and flush out any water weight. Keep yourself hydrated by drinking as much water as you can handle. In addition to flushing out your system, extra water will help curb your appetite. Stay away from sodas and anything with fizz, as they're guaranteed to cause bloat.
Make Your Skin Glow
Facials are a pre-event "do" -- but not on the day of the event. Book your appointment at least two days in advance, so your skin has a chance to settle down after the rigorous attention of your facialist. The night before the event, exfoliate your entire body with a dry brush massage. This simple treatment involves rubbing a natural bristle brush over dry skin to help remove dead skin cells. Follow with your favorite moisturizer for dewy, radiant skin.
Get Amazing Hair
Make any drastic changes to your hair, whether a cut or color, several days before the party. While the fresh-out-of-the-salon look is always a head turner, major changes to your hair require a few days' cushion -- just in case something goes wrong. Five days before a party is enough time to fix any mishap -- five hours is not. If you're not planning a major hair rehaul, then a volumizing shampoo is your mane's most important ally, followed by a three- to five-minute deep-conditioning hair mask. Together, they'll give your tresses extra body and major shine. If split ends are a problem, rub some hair wax on the tips to temporarily smooth out and seal them.
Sleep Well
Nothing beats a night of beauty rest to make you look your very best. Not only is sleep necessary to help you stay alert and focused, it also helps your complexion. While the body is at rest, skin cells regenerate and facial muscles relax, softening any lines that may have formed during the day, sleep specialist Rubin Naiman says in "Fitness" magazine. An early bedtime gives your skin ample time to recover and rejuvenate.