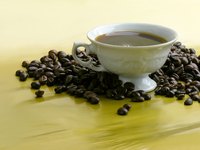 Iron is a mineral that is essential for many cell functions including metabolism, DNA synthesis and the transportation of oxygen. Iron is available in heme form, which comes from animal-based foods, and nonheme form, which comes from plant-based foods. Absorption of iron varies with the source of the mineral. Other foods consumed along with sources of iron may interfere with the absorption of this important mineral.
Phytates, Oxalates, Phosphates and Polyphenols
Phytates are found in legumes, grains and rice as well as many other plant foods and can reduce iron absorption by as much as 50 percent. However, consuming vitamin C with phytates can negate this effect. Another compound that can reduce bodily uptake of iron are oxalates, which are found in chocolate and spinach, as will the phosphates found in sodas. Polyphenols are an antioxidant found in red wine and grape juice, as well as coffee, tea and some fruits and vegetables. Polyphenols will, unfortunately, also interfere with the bodily absorption of iron.
Tannins
Tannins are a chemical in certain plants that discourage the consumption of those plants by herbivores. Tannins are found in coffee and tea and are another compound that decreases iron absorption.
Fiber
Foods high in fiber, such as wheat bran, may interfere in iron absorption.
Minerals
Foods high in other minerals such as calcium, zinc, magnesium and copper will decrease iron absorption. Milk products are included in this category, as they are high in calcium.
Proteins
The protein found in legumes such as lentils, mung beans, split peas and black beans will reduce iron absorption, as will soy proteins and the proteins found in the yolk and the white of eggs.
Medications and Herbs
Certain medications, such as antacids, histamine blockers or proton-pump inhibitors can also reduce the absorption of iron. Also, certain herbs, such as peppermint and chamomile, if taken in large quantities, will decrease iron absorption.
Increasing Iron Absorption
Eating foods high in vitamin C can improve iron uptake enough to outweigh the iron-blocking effects of certain foods. It is a good idea to only eat iron-blocking foods several hours before or after iron-rich foods or supplements to maximize the uptake of this mineral.