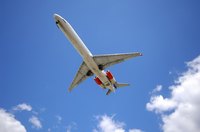 Utilizing the Internet for airline tickets gives you access to the same systems that some travel agents use, without the added costs of fees and commissions. The result is that you have the ability to comparison shop for the best ticket price, choose your own flight plan, and purchase your tickets at any hour of any day. Many websites offer cheap ticket prices and are easy enough for a user with any level of expertise with the Internet.
Orbitz Travel
Orbitz allows travelers to research and book their online travel tickets. They also offer a guarantee that provides the shopper with a $50 coupon to use towards another ticket if a similar ticket is found on a different website for a lower price.
orbitz.com
Travelocity
Travelocity offers the consumer the option of searching for the best ticket price and promises to match any online price from other sites, or will give the shopper a $50 coupon for future travels. Travelocity also guarantees that any bookings made through their site will be correct.
travelocity.com
Priceline
Priceline provides the consumer with a searchable database of ticket prices, but also offers the Name Your Own Price® option that allows the traveler to choose the price they want to pay for a ticket and select an agent that can match it. Priceline also does not charge booking fees for published price domestic or international flights booked through their website.
priceline.com