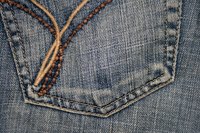 Skinny jeans seemed like a fad when they appeared in the early 2000s. Today, however, sales of men's skinny jeans--jeans with arrow-peg ankles and tapered legs--are still going strong, and popular brands are getting in on the action. There's good reason: Skinny jeans enable style-conscious men to have an outlet to show off their gym-sculpted bodies, support the brands that relentlessly promote them and wear fashions of pop stars. There are a few styles of skinny jeans that are above the rest.
True Religion's Rocco
True Religion's signature low-rise skinny jeans were created by Jeff Lubell, who envisioned comfy yet stylish jeans presented in his line of fashionable denim. They contain a four-way, flexible stretch spandex material for added room. Other materials include cotton and polyester. The Rocco cut features orange multi-top stitching and a clean, dark blue or bleached wash. Its horseshoe back pockets are embroidered and include a brand label at the back waist. Rocco jeans contain five-pocket styling and a button-fly closure. The cost for a pair of Rocco jeans, as of 2010, are $209, according to the True Religion website.
7 for All Mankind's Slimmy
7 for All Mankind's Slimmy jeans have a widened thigh and an elongated distance from the top of the waistband to the crotch. Slimmy is tailored to sit comfortably on the waist and is fit throughout the thigh and hip areas with a slightly tapered leg.The jeans are presented on non-stretch Italian denim and coated with an orange-tinted resin. They contain no whiskers, distress or abrasion for a streamlined, minimal aesthetic. Slimmy has a zip fly and is composed of 98 percent cotton and two percent spandex. The price for a pair of Slimmy jeans range from $169 to $189 in 2010, according to 7 for All Mankind's site.
Levi's Skinny 511
Levi's Skinny 511 jeans sit below the waist and contain a slim leg to the ankle. Two exclusive features of the style are an open top shank button at the waist and wider belt loops. They are made of 100 percent cotton with a frayed edge to create a vintage illusion. Skinny 511s includes five-pocket styling and a zipper fly and are available in over 20 washes and styles. The jeans contain traditional Levi's embroidery detail on the back pockets in addition to buttons in the back for a more snug waist. Prices for Levi's 511 Skinny jeans range from $44 to $69.50 in 2010, according to the company website.