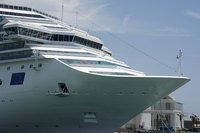 Booking a cruise seems as if it should be straightforward. You pick your destination, pick your cruise line, choose your cabin and head out on vacation. However, successful cruising is often dependent on knowing secrets, which can range from how to get the best bargain on your particular cruise, to knowing inside tips about restaurants and amenities aboard the ship, to knowing pitfalls to avoid.
The Cruise Must Sell Drinks to Break Even
Not only do cruises need every cabin booked for a cruise to make money, but they also need to sell a lot of drinks to break even. Norwegian Cruise Lines (NCL) expects every passenger to spend a minimum of $7.50 at the bar every day. Classes are offered in how to make mixed drinks such as mojitos, all to encourage guests to drink alcohol. Wine at restaurants tend to be on the expensive side. In addition, NCL staff go through all luggage and remove any alcohol that guests may have brought on board (this will be returned at the end of the cruise).
Activities Aren't Free
Entertainment may be free on a cruise, but many other activities cost money. On NCL, activities that incur an extra charge range from rock climbing to bingo games to sushi-making classes.
Restaurant Cover Charges
Although food is supposed to be included in the cost of a cruise, on some NCL ships many restaurants charge a cover charge over the cost of the food. On the Norwegian Sun, only three restaurants out of 11 have no cover charge, and two of those serve the same menu. However, some cruisers prefer the restaurants with cover charges and feel the food is special enough to warrant the extra charge.
Private Islands
NCL was the first cruise line to purchase its own private island in the Bahamas for the use of its guests. Great Stirrup Cay offers NCL guests complete privacy and exclusivity for relaxing, dancing and partying.
Shore Excursions
NCL, like other cruise lines, makes money on every shore excursion guests book through them, and also receives a piece of the profits when guests shop at recommended stores on shore. Sometimes guests can get the same experience at less cost if they book their own shore excursions or wander slightly off the beaten path while shopping.
Upgrades and Specials
Because a cruise line must fill all the cabins to make money on a cruise, upgrades to better cabins are often available. NCL will guarantee a cabin category rather than a specific cabin, which means that often they must provide a higher category cabin for the price you already booked. As with other cruise lines, they also frequently offer specials to retirees and those in the military, as well as to former passengers returning for another cruise. Group rates are also available.