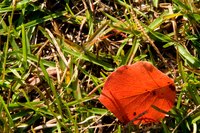 Centipede grass (Eremochloa ophiuroides) generally displays a toughness that allows it to withstand difficult conditions. This warm-season grass is susceptible to several pest and disease problems, however, if it's subjected to extreme stress or not properly maintained. Centipede grass does best in U.S. Department of Agriculture hardiness zones 7 and 8.
Iron Deficiency
Centipede grass has a natural yellow-green color, but its leaves may turn a bright yellow if it doesn't get enough iron, a condition known as iron chlorosis. Iron deficiency is common in centipede grass when the grass is grown in soil with a high pH; soil with a pH above 6.5 is especially problematic. Phosphorus may displace iron in the soil, too, so soils with high phosphorus levels may make iron chlorosis worse. Avoid using fertilizers that are high in phosphorus, and have your soil's pH level tested to determine if pH problems are causing the yellowing. You can use sulfur, applied at a rate of not more than 10 pounds per 1,000 square feet to lower the soil's pH, but in extremely acidic soils under 4.5, centipede grass may not be a good choice.
Ground Pearl
The pest commonly called ground pearl is actually a scale insect that eats the roots of centipede grass; they're called ground pearls because of their small, round bodies, which are often visible in the soil or around the roots of the grass. The insects' feeding can severely damage or kill centipede grass, and there is no effective pesticide control that will get rid of them. The insects feed on other types of grasses, too, but other species such as zoysia grass (Zoysia spp.), which is hardy in USDA zones 6 to 9, Bermuda grass (Cynodon spp.) and Bahia grass (Paspalum notatum), which are both hardy in USDA zones 7 to 10, are less likely to be fatally damaged by the pest. So either of these grasses may be a better choice in places where the problem is severe.
Sting Nematodes
Some kinds of nematode pests, such as the sting nematode, can cause serious or even fatal damage to centipede grass. The nematode's feeding on the plant's roots may cause thin growth, and when the weakened grass is subject to environmental stress, such as hot weather or lack of rain, it may die. As with ground pearl, there is no effective pesticide treatment for nematode problems, so proper maintenance, including adequate watering, is the only option for controlling the problem. If nematode infestation is severe, replacement of centipede grass with a more resilient species may be the only option.
Large Patch
Centipede grass is also vulnerable to fungal infections that cause circular patches of the grass to die; these infections are often called "large patch" disease. The disease is most prevalent in the spring and tends to subside during drier summer weather. Fall application of fungicides such as triadimefon may help to control the problem. Dry products containing triadimefon should be applied at a rate of 3 to 6 pounds per 1,000 square feet to control fungus, and the lawn should be thoroughly watered after application; liquid products should be applied at a rate of 56 ounces in 3 to 5 gallons of water per 1,000 square feet.
Avoid contact with your skin and eyes, avoid breathing the fungicide dust, wear PVC gloves while you're preparing the spray and wash your hands well after the application is finished. (Ref 6)
Overwatering, overfertilization and thatch buildup all encourage fungal infections, so avoiding these conditions is crucial in controlling the problem, too.
Preventative Maintenance
Centipede grass that's properly maintained is much more resistant to common pest and disease problems. Fertilization with too much nitrogen exacerbates many problems; application of more than 1 pound of nitrogen per 1,000 square feet is usually too much in sandy soils, and in clay soils, the grass may not need any supplemental nitrogen at all. Mowing the grass to a height of 1 inch also helps to prevent many problems.