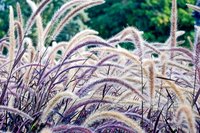 Ornamental grass offers a versatile alternative to traditional landscape flowers and shrubs. Grasses offer clean lines and vertical enhancement to gardens. Maintenance on these ornamental plants consists of yearly pruning to allow new growth to emerge at the base of the plant. Cutting down ornamental grass promotes healthier growth and rejuvenates the plant.
Choose the Correct Tool
Tool choice depends on the size of the ornamental grass clump and the strength in the gardener's arms. Prune smaller clumps using long-handled hedge shears or a pruning saw to ensure a straight cut. Gardeners often trim larger clumps greater than a foot in diameter with electric or gas-powered hedge shears. Dense stands of tall grasses such as pampas require a tougher tool to work through the thick, sharp grass blades. Use a chainsaw to cut down the thickest clumps of ornamental grass.
Bind Blades for Easy Cutting
Gather the leaves in an upright bunch, and bind along the length at 6-inch intervals. Use twine, bungee cords or duct tape spaced evenly up the ornamental grass clump. Binding makes cutting easier. This trick also allows for easy removal of cuttings after pruning.
Use the Correct Cutting Position
Schedule pruning in the late winter or early spring to remove old growth before new shoots appear around the base of the plant. Place the cutting surface of the pruning tool parallel to the garden surface. Cut straight across at a height between 4 to 8 inches above the soil level. Avoid chopping off new shoots. Move the cutting blade about 1 inch above to the new growth to protect shoots from sharp cutting edges.
Remove Excess Foliage
Avoid removing foliage in the fall. The browning leaves of the ornamental grass add visual interest to the landscape during the cold winter months. The seed heads offer a lovely addition to the winter garden as well as a treat for the birds. If you must neaten the appearance of the grass clump, don a pair of thick garden gloves and run your splayed fingers through the clump from base to ends. This method is almost like combing your hair with your fingers. It removes loose foliage and broken blades. Dead foliage serves a practical purpose as well as beautifying the landscape. The protective cover of the dead ornamental grass foliage protects the tender roots from freezing during the harshest part of the winter.