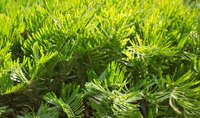 Outside of black earth or volcanically rich soil, fertilizers are often a necessary part of gardening and farming. There are two types of fertilizers: organic, which comes largely from animal waste and other natural substances, and inorganic fertilizer. In general, organic fertilizers are preferable, since they do not stress plants or the local ecosystem, but inorganic types, such as Miracle Grow, have their own advantages.
Quick Use
The main advantage of inorganic fertilizer is that they work quickly; chemical types of fertilizer are already broken down into their most basic components for quick absorption. If you are gardening in poor soil and fear your plants are not getting what they need, a dose of inorganic fertilizer is a quick solution. However, the artificial ingredients can harm the general environment over time.
Organic Fertilizer
Organic fertilizers are beneficial in that they do not put additional stress on plants, poison the groundwater, or add artificial substances to the soil. However, they typically do not work as quickly as inorganics, as they need microbes to be broken down into components the plants can use. Organics work best when thinking about long term plant and soil development, keeping the soil fertile and nutritious for years to come.
All Inclusive Inorganics
Another major advantage to inorganic fertilizers is that they are prepared with all necessary ingredients. The all-inclusive nature of the inorganic compounds give the plants a quick, powerful dose of everything they need to thrive. As soon as the inorganics hit water, their nutrients are immediately released, in their broken down, usable form. In addition, inorganic fertilizers generally tend to be accessible and affordable.