Controlling weeds and fertilizing the turf are two aspects of lawn maintenance most homeowners take on during the course of the growing season. Weed-and-feed products handle both tasks. Homeowners trying to decide which one of the several types available best suits their needs need to consider a number of factors.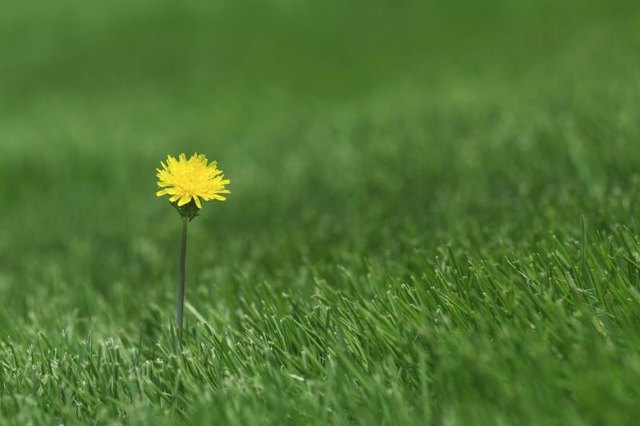 (Roel Smart/iStock/Getty Images)
Pre-emergent weed-and-feed products are those with pre-emergent herbicides, which prevent weeds from sprouting before they emerge from the ground. Early springtime is often the best time for applying these products; you must apply them prior to weed germination for them to work. Pre-emergence herbicides work well against annual grass weeds such as crabgrass (Digitaria spp.) and annual bluegrass (Poa annua), and against certain broadleaf weeds such as chickweed (Stellaria media). In warmer parts of the country, an autumn application is needed to control winter annuals such as annual bluegrass. Only use pre-emergent products if you know you have a problem with certain weeds.
Micah Bowerbank/iStock/Getty Images
Most of the weed-and-feed products on the market contain post-emergence herbicides, which kill actively growing weeds present in your lawn. In most cases, the products recommend a mid- to late-spring application. These herbicides are tricky to time correctly. The younger the weed is, the easier it is to kill early in the season. However, an application in early fall or late summer is ideal to kill mature weeds, because they are actively moving nutrients and other materials from their leaves to their roots; they will quickly move herbicides to the roots during this time.
Yuriy Klymenko/iStock/Getty Images
Unfortunately, the convenience of the product overshadows the considerations. Herbicide and fertilizers often require different application times. For example, a pre-emergent herbicide for crabgrass typically requires a mid-spring application, which is later than recommended fertilizer timing for many cool-season grasses. If you only have small patches of weeds, consider a separate herbicide and applying only to the affected area, advises North Carolina State Extension.
BrianBrownImages/iStock/Getty Images
Looking at several weed-and-feed products will reveal that they use a variety of active ingredients and ingredient combinations. Atrazine, metsulfuron and dicamba can damage ornamentals; use them with caution near planted landscape beds. Also make sure the active ingredient is safe for your particular turf species. Atrazine is safe for St. Augustine grass (Stenotaphrum secundatum), which grows in U.S. Department of Agriculture plant hardiness zones 8 through 10, and Zoysia (Zoysia spp.), which grows in USDA zones 6 through 9, but not Bermuda grass (Cynodon dactylon), which grows in USDA zones 7 through 10. Products containing 2,4-D, dicamba or mecoprop are never safe for St. Augustine grass.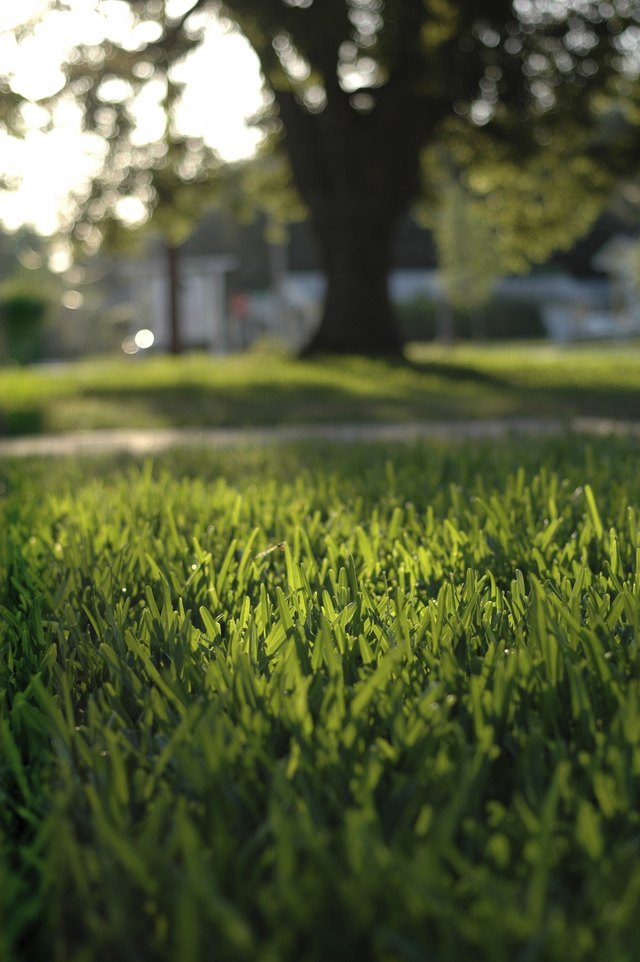 Elizabeth Griffith/iStock/Getty Images
Weed-and-feed products often come in bags that cover 5,000 or 10,000 square feet, although you may find smaller or larger bags in your local hardware store. Drop spreaders help evenly distribute the product onto the lawn without throwing the product onto nearby plants; the instructions will give you proper application rates, as they vary from product to product. Before applying weed-and-feed, your lawn should be damp. Many products require your lawn to be rain- or irrigation-free for 24 to 48 hours following application. Never use weed-and-feed products on newly planted seed or sod.
destillat/iStock/Getty Images
Promoted By Zergnet