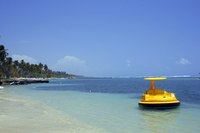 The Dominican Republic, an island nation in the Caribbean, has a variety of resorts along its beaches. These resorts provide guests with accommodations and an opportunity to have a little fun. Family-friendly resorts include chances for kids to engage in supervised activities and games. These resorts offer both adult and children's pool areas, and many of the children's pools feature water slides.
Club Med Punta Cana
Club Med Punta Cana is an all-inclusive resort that offers activities for both children and adults. Sports and activities include sailing, windsurfing, kayaking, trapeze and scuba diving. Supervised programs are also available for children and teens. While the Club Med spa pool is for older children and adults, the children's pool offers several slides and other attractions for smaller children.
Club Med Punta Cana 106 Higuey Provincia La Altagracia Punta Cana, Dominican Republic 888-932-2582 clubmed.us
Dreams Resort
Located along the eastern coast of the Dominican Republic, Dreams Resorts provides guests with ocean views, recreational activities, lounges and a large pool. The spa includes Swedish saunas, a hydrotherapy area, a pool and high-pressure showers. The resort features a pirate's ship water slide for children ages 3 to 12 as part of the Explorer's Club. Additional activities for children include a playground, an indoor game room, treasure hunts, sand castle contests and pony rides.
Dreams Resort Playas Uvero Alto Provincia La Altagracia Dominican Republic 809-682-0404 dreamsresorts.com
Paradisus Punta Cana Resort
Paradisus Punta Cana Resort features over 700 guest suites with private balconies and living areas. The resort has 12 restaurants, eight bars and seven swimming pools. Recreational activities include tennis courts, casino games, scuba diving, horseback riding and kayaking. The Kids Zone includes a tropical-theme playground with two children's pools that feature slides.
Paradisus Punta Cana Resort Playa De Bavaro Punta Cana, Dominican Republic 809-687-9923 paradisuspuntacana.travel