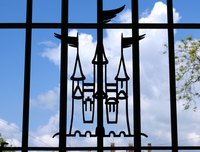 Walt Disney Parks and Resorts, a business division of the Walt Disney Company, conceives, builds, manages and operates Disney theme parks all over the world. Currently, there are five different Disney theme parks in operation. Asia and North America each host two Disney theme parks, while Europe hosts the Disneyland Paris resort. In 2009, the Chinese government and Walt Disney Parks and Resorts reached agreement to build a sixth Disney theme park in Shanghai; the planned opening date of which is 2014.
United States of America
There are two Disney theme parks in the United States. Located in Anaheim, California, Disneyland Park is the first Disney theme park to open, and provided the inspiration for all other Disney resorts around the world. The Anaheim Disneyland Resort features the only Disney theme park created by Walt Disney, a second park, California Adventure; as well as Downtown Disney.
Disneyland Resort in California 1313 Harbor Blvd. Anaheim, CA 92803 714-781-4565 disneyland.disney.go.com
The Walt Disney World Resort in Orlando, Florida is the largest park in the Disney franchise. Walt Disney World Resort features six different theme parks: Disney's Animal Kingdom, Epcot, Hollywood Studios, Magic Kingdom theme parks, and two water parks--Blizzard Beach and Typhoon Lagoon. There are also 24 Disney-themed hotels.
Walt Disney World Resort 3111 World Drive Lake Buena Vista, FL 32830 407-824-4321 disneyworld.disney.go.com
Japan
Japan is home to the Tokyo Disney Resort, the first Disney theme park to open outside of the United States. The actual location of the resort is Urayasu, Chiba, which is near Tokyo. The Tokyo Disney Resort consists of two theme parks: Tokyo DisneySea and Tokyo Disneyland. Tokyo Disneyland opened in April 1983, and Tokyo DisneySea welcomed guests for the first time in September 2001. The DisneySea park is an oceanic-themed park where guests can explore seven main ports, each featuring a distinct set of rides, restaurants and entertainment. Tokyo Disneyland boasts the Magic Kingdom of the orient, a World Bazaar, and the four classic Disney lands: Adventureland, Fantasyland, Tomorrowland, Westernland, plus two minilands, Critter Country and Mickey's Toontown.
Tokyo Disney Resort 1-1, Maihama Urayasu-shi Chiba 279 Japan 047-354-0001 tokyodisneyresort.co.jp
France
France is home to the Disneyland Paris Resort, otherwise known as Euro Disney. The actual location of the resort is Marne-la-Vallée, France which is seven miles to the east of Paris. The Disneyland Paris Resort consists of two theme parks, the Disney Village, and seven Disney-themed hotels. Disneyland Paris opened in April 1983, and Walt Disney Studios welcomed the public for the first time in March 2002. The Walt Disney Studios park focuses on cinema and television and comprises four studio lots. Guests can visit five different Disney lands in the Disneyland Paris park, including Main Street U.S.A., Frontierland, Adventureland, Discoveryland and Fantasyland.
Disneyland Resort Paris 77777 Marne-la-Vallee Paris, France 60-30-60-53 disneylandparis.co.uk
Hong Kong
Hong Kong Special Administrative Region (SAR) of the People's Republic of China is home to the Hong Kong Disneyland Resort, the world's smallest and newest Disney theme park. The actual location of the resort is Lantau Island in Hong Kong. A single theme park and two Disney hotels comprise the Hong Kong Disneyland Resort. In operation since September 2005, the theme park has a total capacity of 34,000 people. The park's main attractions consist of a Fairy Tale Kingdom, Spirit of Fantasy, and four theme lands: Main Street, U.S.A.; Fantasyland, Adventureland/Pirateland and Tomorrowland.
Hong Kong Disneyland Resort Lantau Island, Hong Kong 3510 6000 1830-830 park.hongkongdisneyland.com