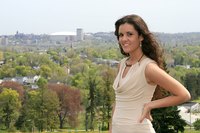 Syracuse, located in central New York, may not be the "City That Never Sleeps," but it has more night life than some might guess. Travelers and locals alike will find plenty of ways to spend their evenings in the "Salt City."
Singers
If you're looking to be the entertainment rather than simply being entertained, Singers is the place for you. Singers is a karaoke bar. While other nightclubs may have karaoke nights, Singers has karaoke every night. The club is open from 6 p.m. to 2 a.m. every day, with happy hours running from 5 to 9 p.m. every Friday. Singers boasts a cabaret-style stage, a top-of-the-line sound system and an extensive list of MP3G songs. The club offers practice rooms for those with stage fright and is available for teenage birthday party rentals.
Singers 1345 Milton Ave. Syracuse, NY 13204-1026 315-484-7464 singersentertainment.com
Lost Horizon
Lost Horizon is Syracuse's rock club, serving all of central New York. 2010 marks the 40th anniversary of Lost Horizon. Rock luminaries across the decades have had stints at Lost Horizon, from hardcore titans such as Hatebreed, Fugazi and Madball to alternative rock legends such as the Red Hot Chili Peppers to hard rock superstars Bon Jovi and Guns N Roses. The club generally admits anyone over the age of 18 but sometimes does all-ages shows.
Lost Horizon 5863 Thompson Rd. Syracuse, NY 13214 315-446-1934 thelosthorizon.com
Trexx
Primarily a gay bar, Trexx prides itself on serving everyone in central New York with a great time. The Syracuse New Times awarded the bar both "Best Straight Friendly Gay Bar" and "Best Gay Friendly Straight Bar," reflecting the broad client appeal of this Salt City staple. Trexx is open Thursday through Saturday, making it strictly a weekend affair. The club is 18-plus with special cover deals for patrons over the age of 21. Trexx hosts dance parties, drag shows and college nights.
Trexx 323 N. Clinton St. Syracuse, NY 13202-1005 315-474-6408 trexxonline.com
Club 950
Club 950 is a bar primarily catering to central New York's lesbian community. The club offers food as well as art and attractive lighting. Attractions at Club 950 including dancing, live music, drag shows, pool tables, video games and free parking. The inside of Club 950 is nonsmoking for the comfort of all patrons. Club 950 is closed on Mondays and Tuesdays and opens at 5 p.m. all other days, except for Sundays when it opens at noon.
Club 950 950 Spencer St. Syracuse, NY 13204 315-425-1450