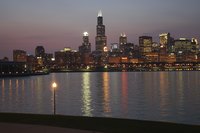 It's a curious thing that one of Chicago's most revered landmarks -- Wrigley Field -- didn't install stadium lights or host an evening game until 1988, because the city has long had quite the lively late-night scene, even on Sundays. Sunday crowds may disperse from such landmark attractions as Navy Pier and Millennium Park, and only a handful of souls may ride the L Train as it loops its way through downtown, but that doesn't mean the Windy City has gone to sleep. Make your way outside the city center on a Sunday evening to find hordes of night owls also in search of late-night adventure.
Make 'Em Laugh
Just one block south of Wrigley Field, iO Theater is an improv comedy club that served as the training ground for such famed comedians as Chris Farley, Tina Fey and Mike Myers. The theater is home to three performance spaces, two of which, the Harold Cabaret and Chris Farley Cabaret, host late-night shows on Sundays. The shows feature a mixture of stand-up comedians and audience-involved improv skits. Less than five minutes south of iO Theater, in the Lakeview neighborhood, is the Playground Theater. The improv group also has late-night shows on Sunday evenings, some of which adopt a pay-what-you-can policy. The theater allows patrons 21 and over to bring their own beer.
Musical Interlude
Tucked away in Chicago's trendy Uptown region, the Green Mill has existed in one form or another since 1907. Over the years, the swanky nightclub hosted such clientele as Al Capone and saw performances by such legendary musicians as Billie Holiday and Al Jolson. Today, the retro jazz club stages slam poetry sessions on Sunday evenings, followed by late-night jazz concerts, including everything from free-form experimental to New Orleans jazz. The Back Room is just two blocks west of the Magnificent Mile, the famed section of Michigan Avenue filled with hundreds of shops and restaurants, in the city's Near North Side district. Situated in a quiet brick alley, the historic nightclub first opened its doors in 1968. In addition to jazz staples, Sunday night concerts include music acts from the world of blues, Motown and R&B.
Escapism
Talk about your grown-up arcades! Escape to the world of gamers at Headquarters Beercade in Lakeview, a laid-back establishment whose big draw remains the more than 30 vintage arcade games scattered throughout, including such classic titles as Donkey Kong, Galaga and Space Invaders, as well as more than 20 pinball machines. You can also choose from more than 50 bottled and draft beers. Retreat to a fantasy world by taking in a late-night movie at ShowPlace ICON in Chicago's South Loop district. Begin your high-end theater experience with a visit to the Lobby Lounge, an upscale "concession stand" for the 21-and-over crowd, complete with cocktails, gourmet pizza and pastries. Get tickets to the adults-only VIP Premium Reserved auditoriums, and relax in plush leather seats outfitted with side tables.
Be a Good Sport
Enjoy bowling late into the evening at Diversey River Bowl Chicago in the Bucktown area. On Sunday nights your game is accompanied by the sounds of rock 'n' roll and a laser and light show. You can also grab a late-night snack from the bowling alley's pizzeria. Put your inner Tiger Woods to the test with a visit to Diversey Driving Range in Chicago's Lakeview neighborhood. Late Sunday nights you can tee off and drive balls high into the sky from the two-tiered, covered and heated driving range stalls. There's also an 18-hole miniature golf course on the premises.