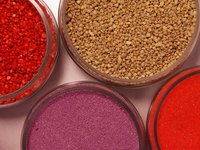 Bath powder is a fine powder you dab on your body, usually after taking a bath or shower. It should leave you with a feeling of overall freshness. Most bath powders are available at stores that sell bath and beauty products. However, with a few simple ingredients, you can make your own bath powders, in any scents you desire.
Baking Soda
Baking soda absorbs odor, which is why it is widely used in bath powder formulas. In fact, the tiny white crystals found in baking soda are used as a main ingredient in many commercial bath salts. Baking soda is commonly found in the cleaning product aisle of most grocery stores.
Cornstarch
Cornstarch remedies any oily patches on the skin. Commonly used as a base ingredient when making bath powder, cornstarch also absorbs moisture and odors. You can find cornstarch at a grocery store.
Rice Flour
Finely ground rice flour is used in bath powders because of its soothing and softening properties. A bath powder made from rice flour is light and airy, giving that refreshing feeling when used. Rice flour is available at grocery stores.
Arrowroot Powder
Arrowroot powder is widely used as a base powder in many bath powders because it is white in color, extremely lightweight and has skin nourishing components, first noticed in the West Indies. Arrowroot powder is available a herbal stores online, as well as health food stores.
Dried Herbs
Dried herbs are ground up and added to bath powder to give it a subtle scent. The type of herb also contributes to the property of the bath powder. Lavender has a calming effect, while rose pedals convey a light, summery, romantic feeling. Dried herbs are available online at herbal stores and homeopathic stores.
Essential Oils
Essential oils used in bath powder recipes give the powder a distinct scent. Choose an essential oil that has a scent to complement your mood or the season. For a scent that is obvious but not overbearing, add 2 to 3 drops of essential oil to a bath powder mixture. Essential oils are available at health food stores and online.