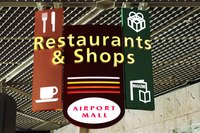 Some of the world's best chefs opened over a dozen restaurants in the Time Warner Building on Columbus Avenue in New York City. It's no wonder there are so many there because of the location, shopping opportunities and the incredible views of the city from every vantage point. Since the building draws tens of thousands of visitors everyday who at a point in the visit get ravenous, all of the restaurants do a lot of business day or night.
Per Se Restaurant
When you enter Per Se, you'll be taken aback by the stone and wood that belie the fact that you are in one of the largest cities in the world. The price of a meal at Per Se will run about $275 as of 2010 prices. On the extensive menu is the very popular Salmon Creek Farms all-day braised pork belly with buckwheat crêpe, scallion emincée, Tokyo turnips and French prune purée with Tellicherry pepper jus. End your meal with one of the items on the dessert menu like the Madagascar vanilla-poached Bartlett pear, caramel mousse and pear pâte de fruit with glace au beurre noisette. You'll have your choice of over 1,200 wines and the wise counsel of the sommelier will pair up your meal with a perfect bottle.
Per Se Restaurant Time Warner Center 10 Columbus Cir. New York, NY 10019 212-823-9335 perseny.com
Porter House New York
V Steakhouse was replaced by Porter House, and the décor changed to reflect a more masculine atmosphere. Chef Michael Lomonaco has fashioned a menu that offers classic dishes that are prepared exquisitely, although understated, and its breadth separates Porter House from its competition. If you would like seafood to start your meal, you'll not go wrong with lobster and Cajun-inflected crab cakes. For your entree from a menu that features pork, beef, veal, lamb and duck as well as a large selection of fish, you would do well to order a Porterhouse steak. For those with less appetite, they can order a myriad of dishes including wild striped bass with rosemary oil.
Porter House New York Time Warner Center 10 Columbus Cir., Fourth Floor New York, NY 10019 212-823-9500 porterhousenewyork.com
Landmarc
First, there was the Landmarc in TriBeCa that is very popular. Now there is one three times the size in Time Warner Center that serves breakfast, lunch and dinner. Just like the original, you can feast on roast marrow bones while you have a bottle of reasonably priced wine. The menu is huge and it contains several types of steak, pasta and fish and it even offers peanut butter and jelly sandwiches for the kids. Among the items listed is a skirt steak salad that is served with fresh greens and Gorgonzola in a chimichurri vinaigrette dressing. Stop by for breakfast and your menu will include several omelets which is this restaurant's specialty.
Landmarc Time Warner Center 10 Columbus Cir., Third Floor New York, NY 10019 212-823-6123 landmarc-restaurant.com