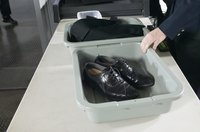 Passengers need more than just their boarding pass in order to get on the plane with no problems. The Transportation Security Administration (TSA) has rules in place for the process of passing through security before boarding, as well as what items passenger may bring on their flight. Following these rules will make the boarding process smooth and quick.
Establishing Your ID
In order to enter security clearing, passengers over 18 must present a valid ID at the security checkpoint. The TSA outlines the kinds of identification it considers valid, which include a U.S. or foreign passport or passport card, driver's license, state ID, U.S. military ID, U.S. permanent resident card, ID issued by the airport or airline and cards issued through the Global Entry program. The TSA has measures in place for passengers who have forgotten or lost their ID, allowing them to present information such as past addresses that can be verified against what the TSA calls "publicly available databases." This process is similar to the process for online verification of identity.
Passing the Security Checkpoint
While the TSA doesn't restrict what clothing passengers can wear aboard the plane, it does require that shoes, hats and outerwear such as jackets be removed during security screening. Pants pockets should be thoroughly emptied and belts removed. Headscarves are allowed, though loose fitting scarves that could hide items may trigger additional screening. Children should be removed from strollers and carried through security checkpoints, and pets should be removed from their carrying cases.
Traveling with Children
The TSA does not require children under the age of 18 to show an ID unless flying internationally, in which case they must have a passport. Children under the age of 12 can pass through security without removing their shoes and may pass through detectors multiple times to resolve any issues if they set off an alarm. Parents are allowed to be with their children at all times during the security process. All items belonging to children, including toys, blankets, strollers and bags, should be passed through the X-ray scanners.
How to Pack Liquids
The TSA limits liquids, aerosols, gels and creams brought aboard to 3.4 ounces per item, which must be in a sealed container and placed in a 1-quart clear, zip-top plastic bag. Certain items may be brought on board in larger quantities and carried outside this bag, including baby formula, medications and breast milk. These items need to be declared to a TSA agent for possible inspection. International travelers flying into the U.S. via a connecting flight may now bring liquid items over 100 milliliters if the item is in a transparent container, was purchased in a duty-free shop and is carried in a secure, tamper-evident bag.
Electronics Requirements
The TSA recommends that travelers bring oversize electronics, such as laptops and video cameras that use cassettes, in their carry-on rather than in their checked luggage. These items must be removed from the carry-on luggage during the security screening process, though smaller electronic items such as tablets and smartphones can stay inside luggage during screening. Laptops may remain in their cases if the case allows for a clear image of the computer inside. In 2014, the TSA instituted a new rule stating that for flights into the U.S. from certain international airports, any electronic devices brought on board must be able to be turned on. If not, they are not allowed on the plane.
Prohibited Items
Sharp objects are not allowed in your carry-on luggage. This includes knives, scissors over 4 inches in length, non-disposable razor blades and box cutters. Certain sports equipment is prohibited, including baseball or cricket bats, lacrosse and hockey sticks, golf clubs, bows and arrows and ski poles. Firearms and ammunition are not allowed on board the plane. Tools, including hammers, saws, axes, crowbars and drills won't make it through security. Neither will flammable items, including lighters, dangerous chemicals like bleach and martial arts or self-defense equipment, including pepper spray.